The backyard is curious thing. A parcel of land we can call our own. A place where we should be able to relax and enjoy the fruits of our labours. In a strange twist of fate however backyards often wind up neglected and largely unoccupied; little more than appendages attached to the house that we seem to drag through time with little regard for their importance or potential. Often, a person in the backyard stands out like a skyscraper in the desert as neighbours peer out the window and wonder "What's he doing?"
So, how did it come to this and what type of magic can be conjured that will rescue the backyard from its current unused state and transform it into a rejuvenating retreat that will enhance our quality of life? That magic is called "landscaping" and in this article we'll provide you with tips and suggestions that will help you use landscaping design to return the yard to the domestic fold in the most complete and satisfying way possible.
Table Of Contents
Tips on Creating a Backyard Retreat from Toronto's #1 Landscaping Contractor
First we're going to take a broad view and look at some overall concepts which, if enacted by a talented landscaping company will transform the yard as a whole from "that place we don't go" into the most valuable and sought after part of your property. After that we'll take a more targeted approach and look at ways specific ideas can be introduced that invite interaction and reflection as well as how to carve out a particular area of the backyard for use as a kind of hideaway where you can let go of the cares of the world and catch your breath.

Let's begin, as we said, by looking at a few elemental landscaping concepts that can be appreciated by everyone on some level and which will turn the yard as a whole into a more inviting, rejuvenating space.
Water Elements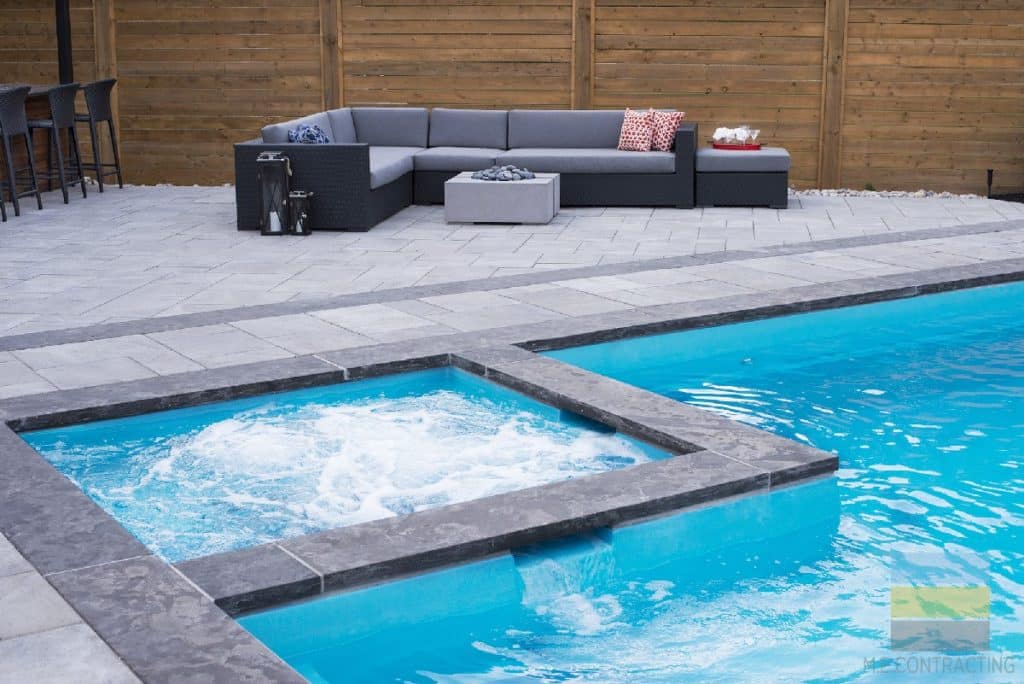 Few things have a more calming effect on the psyche than the sound of water flowing over rocks in a stream, waves breaking on the seashore or water cascading down a fountain. Water, along with its movement and attendant sound, has a way of elbowing past the armour of our personalities and the chaos of daily life to speak directly to that ancient part of us that yearns to detach from the clock and all the myriad cares that come with it. Here are a few different types of backyard water features along with their pros and cons.
The Natural Pool
Swimming pools are great but there's something to be said for the simple appeal of the natural pool. They're relatively easy to create and maintain and what they supply in peace of mind alone as you sit by their banks makes them worth the investment.
Pros of  Natural Pool 
Inexpensive
Easy to install
Makes the property feel larger and more "wild"
Can be as large or small as you like
A fountain can be added to ramp up the aesthetic appeal
Cons
Keeping the water algae-free can sometimes be a challenge
contact us @ (416) 238-6700 and see why we're the GTA's leading landscaping company
The Backyard Waterfall
A well-conceived backyard waterfall provides a unique combination of visual and aural delights. Whether you install it as part of a larger swimming pool complex or as a standalone feature placed in an isolate part of the property when done well the backyard waterfall is a relaxation machine with few equals.
Pros
Tranquillity few other features can deliver
The sound of gently falling water is a powerful sedative
When professionally designed they look perfectly natural
They help cleanse the air in the immediate vicinity
Cons
If you have young children they may present safety concerns
They'll typically need more maintenance than a natural pool
They may attract mosquitos

Man Made Streams
If you have a large property you may want to consider creating a man-made stream. This can be linked to natural pools and/or waterfalls to give the property a much more relaxed, organic feel. Streams can be lined with a variety of flora that evoke the forest and rustic seating can be installed at various locations where folks can sit and soak up the ambience.
Pros
Excellent way to link existing water features
Great for less rigidly landscaped properties
Mosses, river rocks and tiny fish perfect the experience
Provides limitless relaxation
Cons
You'll need a fairly elaborate plumbing system
May attract deer and mosquitos
Can be expensive to maintain
Earth Elements
The proper use of earth elements can transform your yard from a place where you go to take out the garbage to the kind of bliss inducing landscape you usually have to seek elsewhere. Earth elements today are interpreted in any number of ways but for the purposes of landscaping they're composed of soil, rocks, flowers, trees, grasses and other natural terrestrial components of the landscape. When choosing earth elements to inform and transform a landscape the landscaping architect or designer needs to keep a range of considerations in mind, including:
The Materials Themselves
Will plants require extraordinary amounts of water?
Are the grasses, shrubs, plants and trees geographically appropriate?
Is there sufficient room to accommodate their mature size?
What is the durability and life expectancy of living components?
What types of natural stone should be used?
How should they be distributed?
Are acquisition and transportation costs prohibitive?
Planning
Do you want a natural or formal landscape?
Are there large trees or features that can be exploited or will need to be removed?
How best to arrange the new elements to promote beauty and restfulness
Will maintenance of your new landscape be prohibitively expensive?
Sustainability
Which hardscape elements should be permeable?
What provisions will be made for catchment and recycling of water?
Proper drainage is a primary concern
What existing materials can be retained or repurposed?
How to attract wildlife without creating problems?
The most important part of transforming your yard into a refuge with earth elements is planning. Make sure your concept is doable and the themes either cohesive or amenable to one another. Once the themes and overall concepts are defined it will winnow your elemental choices for you to a manageable number so you wind up with the backyard retreat you wanted when you set out.


Fire
Fire is by nature a transformative element and as such lends itself to contemplation. Humans have been relaxing around the fire since the dawn of history and we're still drawn to it like moths. Like all the elements it possesses contradictory qualities that make it both appealing and feared but when properly deployed in the landscape it can be a component of great contemplative power. Fire elements in the landscape typically take 1 of 2 forms:
The Outdoor Fireplace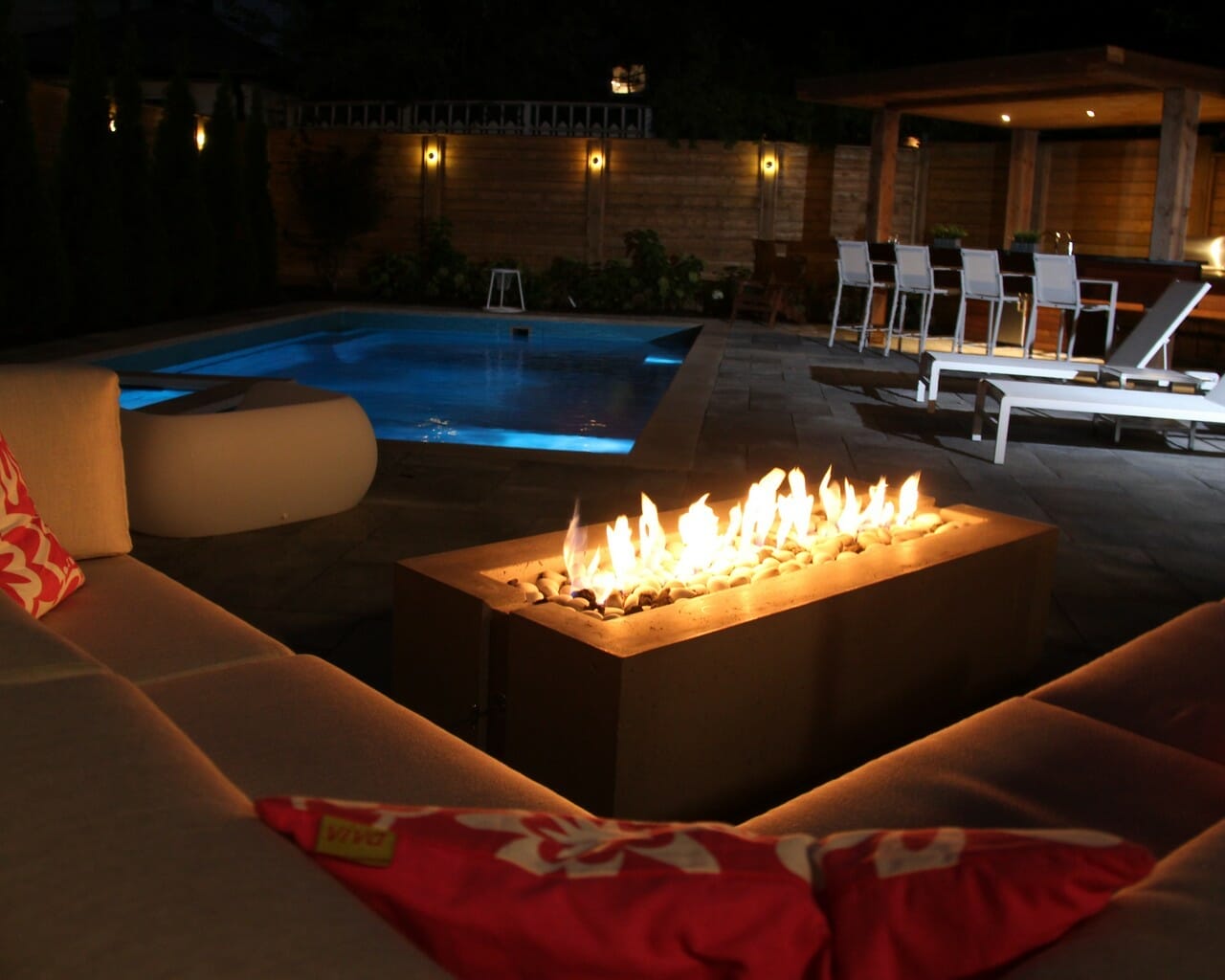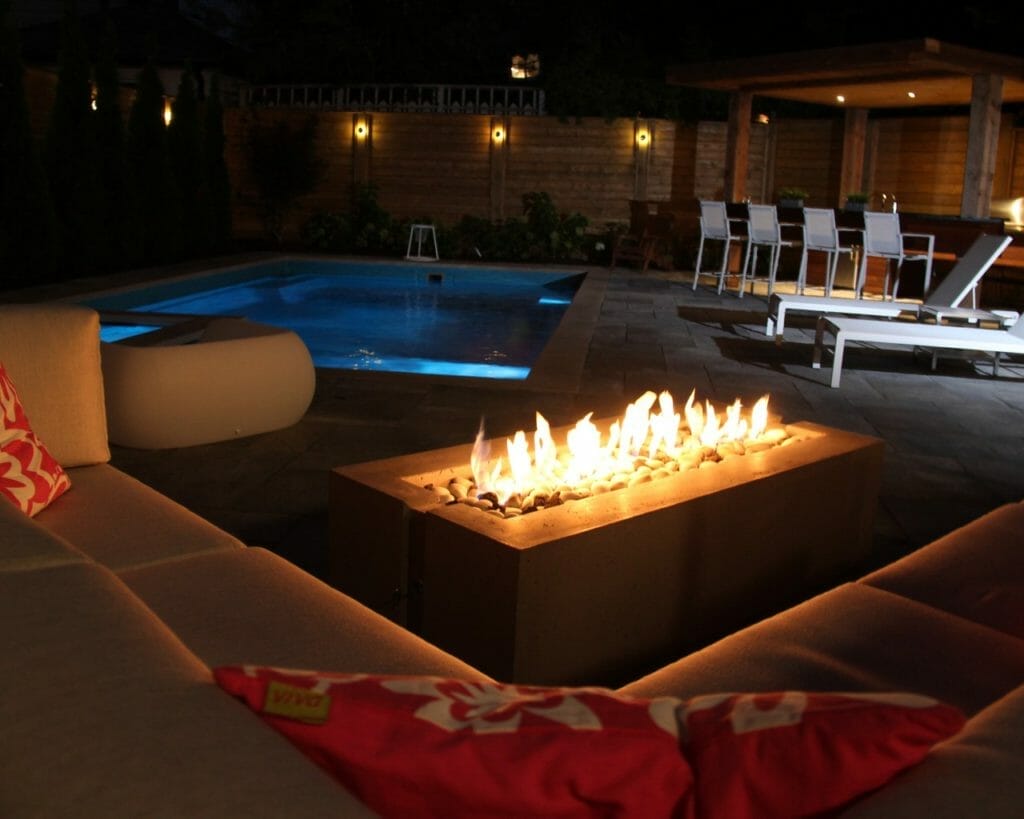 The outdoor fireplace is most often associated with the outdoor kitchen as an additional feature that ramps up the coziness and provides a focal point for after dinner relaxation and contemplation. It's a permanent feature that closely resembles what you'll see in living rooms from coast to coast. The outdoor fireplace is often 2 sided in order to leverage its power as a focal point from more than one angle. Pros and cons of the outdoor fireplace include:
Pros
Typically produces a compelling focal point
Their size can generate a sense of privacy
Can stand alone or be part of a larger construct that may include seating
A wide outdoor fireplace makes an effective wind block
Nothing like sitting under the stars watching the embers glow
Cons
The Fire Pit
The fire pit can be fixed or portable and located pretty much anywhere you like on your property (although it still needs to fit in with its surroundings). It doesn't need a chimney and, if you choose a gas fire pit, doesn't require wood. Fire pits are typically low and surrounded by comfortable seating. The pros and cons of the fire pit are:
Pros
You have more placement options with a fire pit
The fire pit is typically affordable to build and maintain
Fire pits allow for seating all around and a more convivial atmosphere
The fire is easier to tend than one in a fireplace
Gas fire pits are even more convenient
Cons
Fire pits may not be a good aesthetic match for some formal house styles
You have to watch children carefully around the fire pit
Storing wood close to the pit isn't always easy depending on where it's located
The Retreat within the Retreat
Now that we've taken a big picture view of various landscaping elements and how they can be used to transform the backyard into a place of relaxation and renewal, let's take a look at ways you can transform parts of the larger landscape into private retreats that exist as both essential components of the overall design and discrete elements unto themselves.
Selecting the Site – Key to making successful retreat within a retreat is picking the right location within the yard for the oasis. If your property is limited in size your choices will obviously be limited and you may well need to carve an area out of the yard using hedges, masonry walls or some such element. If you have a larger property you'll have more options but the discrete retreat will still need to meld with the surroundings, lest it look like it was dropped from space arbitrarily.
Assessing the Yard – If there is already a comprehensive landscaping scheme in place your landscaping architect or designer will need to retrofit your new oasis into the yard. Typically this will limit your placement options. If your yard is largely as it was when the house was built you'll have more placement options but again, the new mini retreat can't simply appear like an obelisk in the desert. The surrounding area will need to be addressed so that the transition from lawn to contemplative nook is a visually pleasing one. Here are a few methods for selecting the right spot:

Simply look for the most secluded spot in the yard. Whether your yard is fully landscaped or a matter of what-you-see-is-what-you-get it should have one area that's less used than others. Cultivate this seclusion and create your micro retreat within the space.
If physically segregating part of the yard seems impractical or would throw off the balance of things consider carving out space in a more discrete way such as a pergola. The transition from open space to the seclusion of the space under the pergola is not as abrupt as it is if you build a wall or install a hedgerow.
If you're starting from scratch and plan to landscape the entire yard have the landscaping contractor design the small sanctuary right into your larger landscaping scheme. It will be much easier to do it this way and it will never seem out of place within the overall landscaping of the property.
Once you've decided on the right spot for your backyard retreat and the landscaping company has built it out it's time to add those final touches that really bring it to life. These landscaping design touches will range from the overt to the subtle and include:

Lighting – There have never been more ways to light an outdoor space than there are today thanks at least in part to the LED lighting revolution. LEDs use almost no electricity compared to older lighting technologies and yet produce cleaner, more reliable, more versatile lighting solutions than were ever possible before. That said a place of restfulness and rejuvenation should never be flooded with light. Lighting should be discrete, just like the space itself, and be both utilitarian and aesthetic. You may want to hook up a motion sensor so that the lights come on as you enter the space. You can add a timer to the circuit so that the lights don't come on during the day.
Add Natural Fragrances – Make sure your discrete oasis smells as good as it looks by including fragrant flowers such as lilies, irises, peonies and others. When you sit down in your compact retreat you'll be treated to perfumed air to aid you in your relaxation efforts. It's the kind of touch that can complete the experience of the space.
Add Shade – If you're secret space is nestled under a pergola add vining plants that create shade. Or use one of the shade casting trees in the yard as an anchor point for the space. Shade is important on those summer days when the sun is beating down. Creating it is not as hard as you think. Your landscaping architect will have lots of good ideas how to do it.
The Garden Retreat
A popular type of backyard oasis is the garden retreat. The garden retreat is a garden typically built around a seating area that can be as involved as a table and chairs or as simple as a plank bench. The secret to creating a garden retreat that's both compelling and enriching is to make smart use of the raw materials and to create an effective but subtle transition between the larger world of the backyard and the more intimate world of the garden retreat.
Decide how public you want this space to be – Do you want it to be a place where you and your family and friends can relax together? Or will it be intended more as a place of solitary refuge where one, maybe two people can just sit back and do nothing? Your decision will determine the type of seating you include and that will then drive landscaping design of the rest of the space.
Incorporate interesting sightlines – While the life of the garden retreat will be mostly internal, taking place within the boundaries established by the landscaping contractor, it's a good idea to create sightlines that direct the eye outward as well; but in a controlled way that focuses on some distant point of interest. Using a wooden archway is a good method for creating this type of sightline. The archway can be long and covered in vining plants and flowers to add beauty and visual interest.
Don't forget ornamentation – Garden ornaments add a sense of visual surprise and wonder and are a great addition to any garden retreat. The ornamentation can be as simple as interesting rocks or something as time tested as classical bronze sculpture of people or fauna. Large scale antique style stone vases, a bird bath or an ornamental planter all produce the requisite visual interest and add another layer of liveability to the space.
Conclusion
Transforming your backyard into a retreat either in whole or in part can be one of the smartest and most rewarding projects you undertake. In order to ensure good results keep an open mind and enlist the services of the premier landscaping company in Toronto: M.E. Contracting. We make backyard dreams a reality.
Call us today at 416-238-6700 to schedule a free, no obligation consultation! We look forward to creating the yard of your dreams.