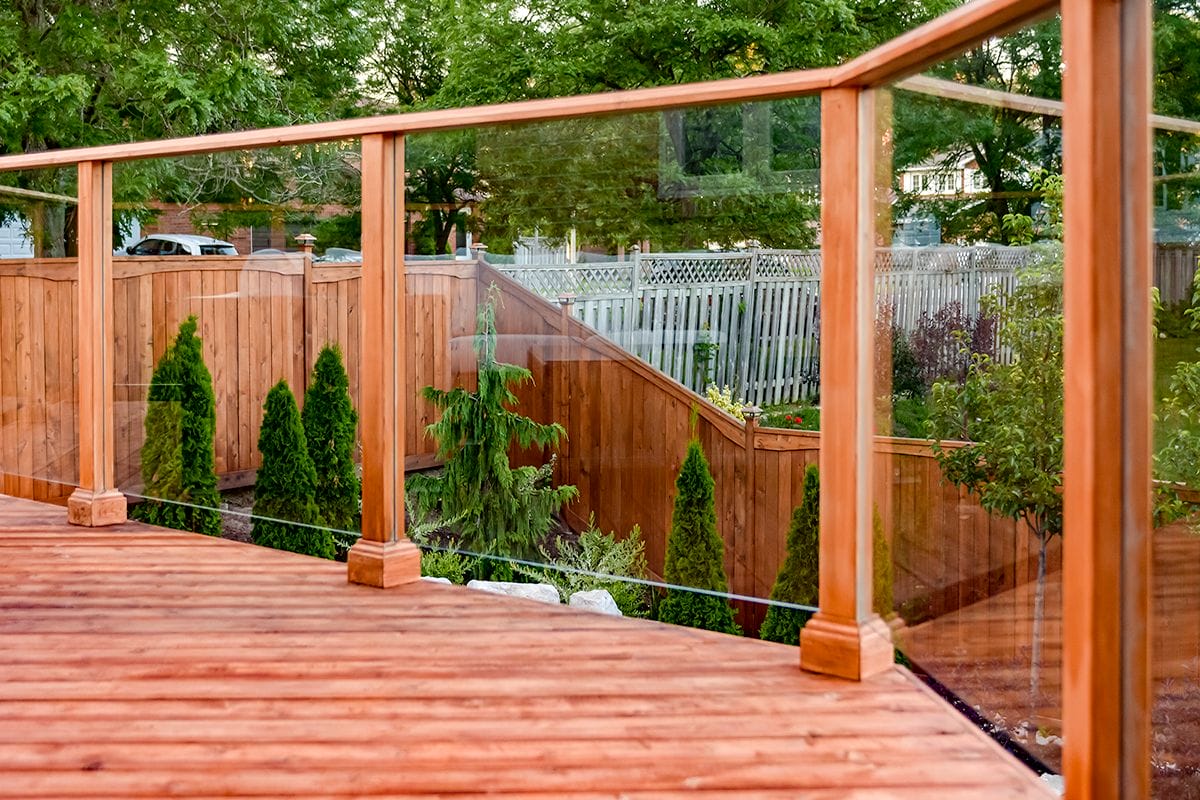 Incredible decks are an extension of living space. Decks can be designed and built as an excellent solution to sloping uneven or rocky terrain. Without compromising safety, all manner of deck shapes, sizes, and materials can be used to create a recreational family space with gazebos, BBQ pits, and comfortable seating.
Make your family's deck the outdoor gathering place and the heart and soul of your yard, and add value to your home at the same time. To extend the natural tone of the yard and garden, families will often choose cedar decking for its truly unique color and natural resistance to insects and decay.
Your Cedar Deck Builder in Toronto
M.E. Contracting offers real Western Red Decking Lumber because it's one of the most beautiful deck building materials to work with. Western Red Cedar is a highly aromatic wood that is prized for its amazing color and grain. It has a Janka hardness of 900, meaning it's a durable wood and yet it's still easy to work with. It is stainable or paintable.
Western Red Cedar Lumber is backyard bliss. M.E. Contracting loves using it to turn your creative Landscaping daydreams into reality because Western Red Cedar is:
Straight lumber and will lay flat, being resistant to warping and twisting
Versatile with a large range of lengths, widths, and thicknesses
Sturdy
Structurally solid and retains fasteners
Water-resistant unlike other natural woods
Environmentally ideal, being a renewable and sustainable resource
Pitch and sap resin-free
Resistant to rot and insects due to its natural tannins and oils
Homeowners love the magic that their Western Red Cedar decking brings to their hardscape because it:
Gives immediate enjoyment
Is a wood of exceptional beauty, with a rich range and amazing color variations of cream, mellow honey, pinkish/purple, and deep red-brown tones
Goes with any style of home, traditional or contemporary
Has many choices of knotty to clear grades, and smooth or combed surfaces
Has natural sound dampening qualities
Does not emit greenhouse gases like man-made composite decking
Is less expensive than other decking options
Lasts 15 to 20 years
Adds real value to the home
Cedar Deck Finishes
Although very durable, Western Red Cedar is natural wood and its life span, beauty, and performance can be enhanced and extended when protected against severe rain, snow, and sunny weather conditions. The horizontal surface will endure the wearing and abrasive effects of foot traffic, pets, and furniture scrapes.
Penetrating finishes are often used on cedar and will not peel, flake, or crack. They help protect the wood's surface by repelling water. They can contain mildewcides and fungicides to increase the durability of the finish. M.E. Contracting gives you a choice of:
Water-repellent preservatives – to bring out the natural cedar colors with a finish that is very effective in preventing water absorption; it is essentially colorless but does contain ultraviolet light blockers
Semi-transparent stains – for a finish with color pigments to enhance or change the cedar's color, help block sunlight, and increase the deck's service life
Durability
Cedar is prized for its long-lasting qualities and beauty. To ensure that your deck will deliver decades of service, you'll want to allow it to dry out after rain. Do this by keeping the surface swept free of leaves, pine needles, dirt, and other debris. Move your planters, benches, and other outside furniture from time to time to allow the deck beneath to dry out thoroughly. Every two to four years, your deck will need to be washed and a new stain or a water repellent wood preservative finish applied.
Let the design professionals at M.E. Contracting help you with the Cedar Deck you've been dreaming about. We have the expertise to make your deck a favorite family space. You are invited to call, stop by our offices, or visit us online to obtain a hassle-free consultation.
Call M.E. Contracting at (416) 238-6700 now for a Consultation and Estimate