Thinking about Building a deck for your Toronto home? Like with any and all Landscaping projects, there are several variables that need considering before construction can begin. A deck can serve several purposes. Will your deck be a hideaway for yourself? Do you want to have a small get-together or large gatherings? We at M.E. Contracting will walk you through the process, starting with the basics: the material of your deck. For this, we would recommend our composite decking.
What is Composite Decking?
Composite decking is composed of wood fiber and plastic, creating planks that can secure a sturdy deck. Decks made from this material do not require the same amount of maintenance that wood decks do, yet they generally last longer. In addition, composite decking is strengthened with a variety of polymers, which, combined with the finely ground wood fiber, create a smooth, consistent finish for your deck.
Composite Decking is Low-Maintenance Decking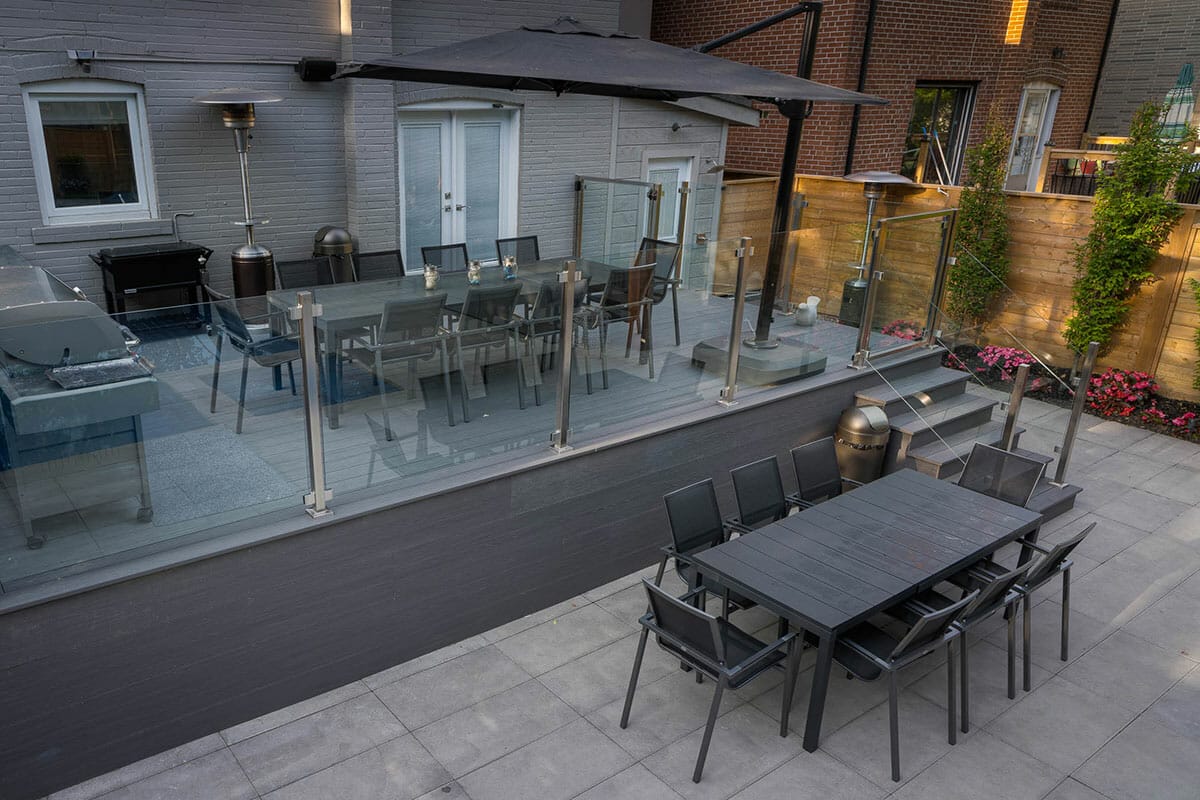 Unlike other deck materials, Composite Decking does not require anywhere near as much maintenance. Since the material is not actually wood, composite decking is not susceptible to moisturizing, which causes shriveling or expansion in wooden materials. Additionally, other benefits that set composite decking apart from regular wood include:
No cracking: The weathering effects on wood will include cracking in several instances. This can be a hazard, bringing in splinters or even holes in your deck. These same effects do not impact composite decking, so you can enjoy a crack-free deck.
No insects: You will not have to worry about termites or any and all bugs from burrowing in your composite decking. A naturally wooden deck would allow for crevices and weathered troughs in the material to allow for insect infestation, which can be a mess to clean up. Composite decking is immune to insect infestation.
No separation: The stability of your wooden deck may be compromised by separation and warping. A change in the weather is the minimum cause required to alter your deck in some way. Fortunately, given that composite decking is left alone by the weather, shape-shifting is something you will not have to worry about.
No staining: Wood decks do not just require structural maintenance; they require aesthetic maintenance too. Weather cycles will interfere with a fresh paint job or polishing. Composite decking is naturally smooth and shiny, so you will not need to stain, prime, or paint it.
The Bottom Line
Composite decking is well worth your while when it comes to having a sturdy, long-lasting deck. It is also the most cost-effective option because it means you will not have to worry about the costs of repairs and maintenance. The bottom line is that, with composite decking, you simply cannot go wrong! Large deck or small, it will last you and your family many years without a blemish and can accommodate the furnishings and equipment you may want to put on it.
Let Us Help You
Now that you know more about composite decking, it is time for you to take the next step in making your decking dreams come true. Contact us today at ME Contracting, and we will help you by walking you through the decking process. If composite decking sounds like something you want to have for your home, we would be happy to offer you an onsite consultation. Then, we can further brainstorm on how to best accommodate your home with the perfect deck.
Now is a fine time to liven up your home with a beautiful deck to host get-togethers and your own relaxation. Composite decking makes a fantastic choice, and M.E. Contracting can help make that happen.
So give us a call, and see our Toronto Composite Decking Portfolio