Are you looking to raise the value of your property? Not sure of what improvements to make in order to do so? Or maybe you just want a classy, state-of-the-art look for your property and are uncertain of what to do? Look no further! We at M.E. Contracting, a premier Toronto landscaping company specializing in custom landscape design, have some amazing tips for you on how to raise the value of your property through the implementation of our high-class landscape design & construction methods. Not only will they enhance the overall look and feel of your property, it will transform it into a stunning work of art!
M.E. Contracting is Toronto's award-winning deck builder and leader in quality outdoor solutions and has been in the business of landscaping for over 15 years. We are fully aware that projects that add curb appeal to a home can raise its value by as much as 20% – any real estate agent will tell you that one of the most important factors in selling your property is to ensure that it has 'curb appeal, which is basically what your property looks like when prospective buyers drive by your property. Landscaping, hardscaping, waterscape, and any kind of home exteriors all influence the curb appeal of a property. As a reputed Toronto landscaping contractor, M.E. Contracting serves a discerning residential clientele and has successfully executed its unique vision of exclusive, high-end innovation on several projects in Toronto and neighboring areas. As specialists in hardscaping, which includes decking, woodworking, railings, interlocking, and pool building, M.E. Contracting is committed to providing excellent design and stunning, high-quality landscapes that satisfactorily fulfill your needs and wants.
Home improvements always raise the resale value of any property, but some home improvements can definitely elevate potential resale value more than others. It wouldn't hurt to invest in a landscaping project not only so you and your family can utilize and enjoy it every day, but to hike your home's overall value. A spacious deck, stunning pool, and shining new shades of paint can all make potential buyers take notice of your property. So, what kind of designs and constructions can radically alter and improve the resale value of your property most? M.E. Contracting has come up with a list of five useful techniques that will not only transform your outdoor space but dramatically raise your property's value as well.
1. Outdoor Lighting
The installation of an exterior landscape lighting system is a fantastic way to add curb appeal and beauty to your entrance areas, as well as create a sense of safety for your family and visitors. A properly lit outdoor area can also create a pleasant and relaxing outdoor atmosphere while having get-togethers in the evenings while acting as a deterrent to potential trespassers and thieves. We at M.E. Contracting recommend that you spend time planning what part of your outdoors you would like to emphasize with lighting and decide what type of lighting would suit the project you have in mind. It could be your walkway, garden, outdoor patio, or maybe even all three. Installing lighting features is generally an inexpensive endeavor and consumes little time and effort. Some good ideas could include stringing some decorative lighting along with your patio or using a spotlight to highlight a specific area of your garden in order to deter intruders.
We wholeheartedly recommend that you consider outdoor lighting for your property. It is not only a popular feature that has been shown to return 50% return on investment towards the final resale value, it also has many other notable advantages. It is quite inexpensive, requires little time and effort to install, and makes your yard and walkway more easily navigable. Furthermore, it can deter potential thieves and trespassers, thereby enhancing the safety & security of your property. Also, if you have a beautiful garden, it will help you show if off when the sun goes down!
2.Patios and Decks
Confused about whether to build a patio or deck in your yard? Don't know which one is right for your outdoor space? And most of all, have no clue the difference between the two in the first place?
Let us at M. E. Contracting define what a patio and deck are so that you understand them better. A patio is an outdoor space in a residence that is generally used for dining or recreation and is usually paved with stone slabs or concrete. It can also be produced using gravel, concrete, pavers, cobbles, pebbles, bricks, stone, tile, block paving, tiles, aluminum, wood, acrylic, rock, and glass. Most patios are built on a concrete slab or a sand and pebble base, at or around ground level, so no safety railings are required. A patio differs from a courtyard in that it doesn't have to be surrounded by walls. It is, however, similar to a courtyard in that it is an open space that can be situated directly on the ground.
Decks, like patios, can be attached to a house or be freestanding, and are often built to take advantage of a view. Therefore, they can be of different levels and often need railings. Decks are mostly made of wood, composite wood material, or vinyl. Common woods used for decking are cedar, redwood, and pressure-treated pine. When designed well and taken care of properly, decks can provide comfort and beauty to your outdoor space.
Patios and decks have been known to offer a 30% to 70% return on investment to resale value. Remember that the climate of a location drastically affects the return on investment for a patio and deck. If you live in a warmer climate and spend more months outside, the higher the return on investment will be if your property includes a patio or deck. If you use more expensive materials such as stone and wood to construct your patio or deck, it will increase the return on investment on your property even more.
It is important to keep in mind that before you start on a patio or deck, you must check with local zoning laws. Some cities require official approval from the planning commission, along with periodic inspections during the building process. This will eventually determine whether your project becomes a deck or a patio.
3. Softscape
Whether you are looking to add horticultural features such as flower beds, planters, other plants, shrubs, bushes, or waterfalls, landscaping your property entails many different aspects, one of them being softscape design. When done correctly, a proper softscape design can improve your home's curb appeal while beautifying your yard, thereby adding increased value to your home.
There are many elements that must be taken into consideration when designing a softscape, to ensure that your hard-earned money is well spent by creating the perfect softscape design fit for your property. Such as, considering the look of your home and the surrounding neighborhood in which you live. Next, you need to consider certain aspects, like wind and sun exposure. As, high wind areas, might be the perfect spot for a row of trees or shrubs planted a certain way to provide a windbreak. Whereas, observing areas of your property that get a lot of sun exposure ensures that you don't waste your investment on flowers and plants that won't be able to thrive in certain lighting. Additionally, one should always consider the sight-lines of your property. As it's important to ensure the view of your beautiful gardens is unobstructed and made visible from the street. Lastly, softscape designs that involve color are an easy way to brighten up your property. So, make sure to choose colors that work well together. When doing so, make sure to also look into the types of shrubs, flowers, and trees you're looking to include in your softscape design and when they will bloom to ensure that your property will have color all throughout the season, However, these are tough decisions to make on your own, which is why M.E. Contracting has knowledgeable and experienced operatives to formulate and design an overall site plan that is attractive, functional, and can increase the value of your property.
In today's heating-up real estate market, making the proper landscaping decisions can greatly affect the value of your home. In fact, a well-designed landscaping plan with softscape design can yield an average 215% return on your investment for your property. The nice thing about this is that softscape designs are so versatile, you can tailor the design to the amount of upkeep and can always take away or add to the design.
Creating the perfect softscape design for your property, takes time, money, and lots of effort. Though, not to worry, make sure it's done right the first time by simply employing M.E. Contracting's skilled and experienced professionals for your entire home's softscape design needs, and rest assured you will be fully satisfied with the results.
4. Outdoor Living Space
M.E. Contracting, with our immense knowledge and experience in landscaping, pride ourselves in our work ethic and work closely with our clients through every single stage of a project to ensure that their vision becomes reality. We recognize that your yard is an extension of your home, and we aspire to combine aesthetics and beauty with functional practicality when constructing your outdoor living space to make it distinctive and exclusive.
Outdoor living spaces on any property almost always depend upon the individual homeowner's taste and budget and can consist of a patio, a deck, an entire outdoor room, an outdoor kitchen with a refrigerator, and more. Outdoor living spaces often feature sufficient room to entertain guests, and prospective buyers who plan to do a lot of al fresco entertaining will love having an outdoor space for that purpose. A full-fledged outdoor kitchen can be a nice change of scene from regular dining and with the proper facilities, can have a whopping return on investment. Kitchens that include barbeques, fire pits, and refrigerators have been known to fetch a 100%-200% return on investment in many instances!
There are several benefits to outdoor living spaces. They make a tranquil sanctuary to which you can retire, cozy up with a loved one, play family games with the kids, enjoy some quiet time in the open air, fire up the barbeque, and come together with the family for a night of outdoor dining.
5.Water Features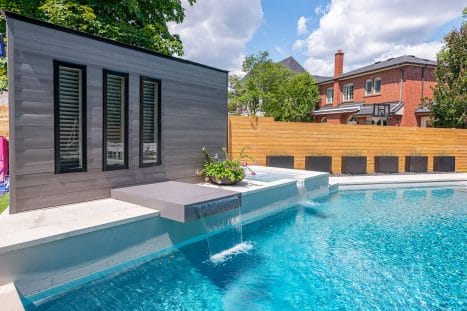 Water: its sound has the potential to naturally calm and relaxes us, because of which we are naturally drawn towards it. All great civilizations were practically built around it. The soothing sight and sound of water appeal to our senses and enrich our experience of the outdoors. Are you the kind of person that feels an intimate connection to water? Could water be an intimate aspect of your outdoor living in the future?
If yes, M.E. Contractors are the right choice for you! Not only are we genuinely passionate about waterscape, but we are also experts at featuring water in your landscape on any scale, form, and design, whether it's an in-ground pool, pond, waterfall, stream waterscape, or bubbling fountain. We even design and construct interior water features, if that is what you're looking for.
However, the return on investment from water features in your outdoor space is not as high as for an outdoor kitchen or fire pit, but they are still quite popular because of their capacity to totally transform a dull & mediocre outdoor space into a soothing, serene space where you can relax. This automatically offers your property a desirable curb appeal and increases its resale value. Also, water features don't require much effort to maintain, so if you're thinking water, M.E. Contracting can design and create a striking pool, pond, or fountain as an addition to your outdoor space.
In the realm of hardscaping, it is important to remember that certain home improvements can definitely offer you more bang for your buck than others. Swimming pools are quite popular, and properties that include one are usually valued a lot more than those without one. That said, swimming pools can be heavily sought after and have become regular features in places of all climates, showing that a swimming pool can provide a definite increase in resale value.
So there you go! These are the 5 most useful tips that we at M.E. Contracting can offer on how to improve your home's resale value. As experts in the field of landscaping, we have the knowledge and experience to successfully design and construct a wide array of visually stunning and ergonomic projects that suit your taste. We pride ourselves on creating top-notch, state-of-the-art, high-quality work consistently and aspire to do indefinitely. We can go on and on about how competent and skilled we are at our work, but actions speak louder than words, so we would like to invite you into our exquisite 7,000 sq. ft. landscaping showroom, the only one of its kind in Ontario dedicated to landscaping & outdoor transformations. We offer a wide array of materials, designs, and finishes on display to create the perfect outdoor space for you and our showroom also includes an in-ground swimming pool with waterfalls, outdoor kitchens, and outdoor furniture for your perusal. M.E. Contracting is located at:
63 Alness St., #7
North York, ON
M3J 2H2
We can be reached at (416) 238-6700 or info@mecontracting.ca
M.E. Contracting is open Mon-Fri from 9 a.m. – 4 p.m. & Saturdays from 9 a.m. – 1 p.m. We are closed on Sundays.
So what are you waiting for? Give us a call, email us or better yet, drop by at our showroom and let us at M.E. Contracting help you make your day!
'M.E. Contracting is one of Toronto's premier outdoor solutions company. Founded by owners Keren and Eitan Abu, with a desire to change the face of Toronto through the revitalization of outdoor living space, M.E. Contracting was established. The "M" and "E" stand for Keren and Eitan's daughters, Mika and Emma; from the start these two girls have inspired the vision of innovation and creativity that M.E. embodies today. Want to see for yourself? Our 7,000 square foot landscaping showroom is the only showroom in Ontario dedicated to landscaping and outdoor transformations'