Landscaping is an art form. There can be little doubt about that. And as with any art form there are guiding principles underlying it that have been developed over centuries through countless instances of trial and error. Those principles provide the foundation upon which the modern landscaping architect or designer rests virtually all of their designs. They provide context, references, background and inspiration. In a very real way they tell us what will work and what will not: the proverbial "do's and don'ts" of the trade. You can always tell a landscape that has been devised by someone who has studied the art form and has a working knowledge of its guiding principles because it works both in whole and in part from any angle you choose to approach it.
Table Of Contents
To Do or Not to Do; That is the Question
In this guide we're going to take a look at a number of those do's and don'ts and try to shed a bit of light on what makes them so. There's no particular order to them, except that we're going to start with the don'ts and then end on a high note with the do's. Enjoy.
Landscaping Design Don'ts
Don't Turn over 1 Shovel of dirt without a plan
This should be obvious but since there continue to be voices in the wild espousing the alleged virtues of the "accidental masterpiece" it's a "don't" worth repeating right up front. Yes, it is possible that if you just go out back and start shifting things around you may inadvertently construct a masterpiece. What's about 1 million times more likely however, is that what you'll construct will be an embarrassing mess. But if the "odds are" argument doesn't stay your hand then consider this: landscaping has a direct and significant impact on the value of your home. Talk to a professional. Discuss your ideas. Listen to theirs. Together you'll come up with a plan that's compelling and does what you want it to do.
contact us @ (416) 238-6700 and see why we're the GTA's leading landscaping company
Don't Overplay or Underplay Hardscape Elements
What do Japanese Zen gardens and the Gardens of Versailles have in common? Hardscape. Hardscape elements give your Toronto landscape character, create sightlines, direct traffic and of course add colour and texture. Good hardscape design guides you through the landscape as a whole in a way that helps you understand its features and optimizes your experience. Good hardscape design never tells you what to think. Instead, like all good art it provides you opportunities to indulge your imagination. Indiscriminate use of hardscape elements (or their complete absence) is a telltale sign of a poorly considered landscaping design.
Don't Forget the Focal Point
A cluttered, unfocused landscape is typically standoffish and will wear on you in short order. To prevent this from happening landscape designers introduce focal points that give the surrounding elements purpose and context and pull you in rather than pushing you away. It can be something as simple as a fountain in a shallow pond, a birdbath at the junction of a walkway or a flowering tree seen through a pergola.
Don't Repeat Yourself
If there is a particular type of flowering tree you're fond of don't fill the yard with it. Instead create one of those focal points to highlight a single instance of it. It will likely wind up being far more effective way to draw attention to your favourite flora and you'll also leave room in the landscape for other elements. And that's important because if you overload your landscape with too many instances of a single type of plant or tree the yard will look barren when that particular plant or tree stops flowering.
THE ULTIMATE GUIDE TO LANDSCAPE POSITIONING
Don't Plant Randomly
"I kind of like this plant here" are words that should never be uttered in reference to landscape design. The overall plan will dictate where things should be planted, how big those plants should be and whether they should be flowering or not. Remember, the design does not exist to support the individual components. The individual components are there to support and activate the design.
Don't Waste Time with the Wrong Equipment
If you're designing and implementing the landscaping design yourself chances are you won't own all the tools necessary to get the job done. That however is not a license to use the wrong tools. The right tool for the job is just as important for landscaping as it is for automotive repairs. If you don't have the right tool, rent it. If you don't know how to operate it the rental company can supply an operator for you. The important thing is to secure the right tool and get the job done properly.
Don't Hurry Things
If you're handling the landscaping work yourself instead of engaging the services of a landscaping contractor toss out the notion of deadlines and give yourself the time necessary to consider things carefully before proceeding. Your landscape project might take 2 or 3 times as long as it would for a professional landscaper. And that's fine. The important thing is the quality of the outcome not the speed of the outcome. Also, review each part of the project as you go and if anything is amiss fix it before continuing. Don't wait until the project is "finished" to perform your checks and double checks.
Don't Waste Money on Luxury Items at the Expense of Ordinary Items
Don't spend half your landscaping budget on features no one is likely to see. Or tie up resources in pursuit of the perfect outdoor kitchen, just because your neighbor has one. Luxury items are great as long as they're going to be used, seen or otherwise experienced. But even then you should prioritize spending on the bread and butter items and spend what's left over on extras. If you approach things that way your budget for luxuries will be more restricted and you'll be forced to select only the ones that make the most sense within the design.
Contact leading Toronto Landscaping company to get Free Estimate
Don't Forget to Light it up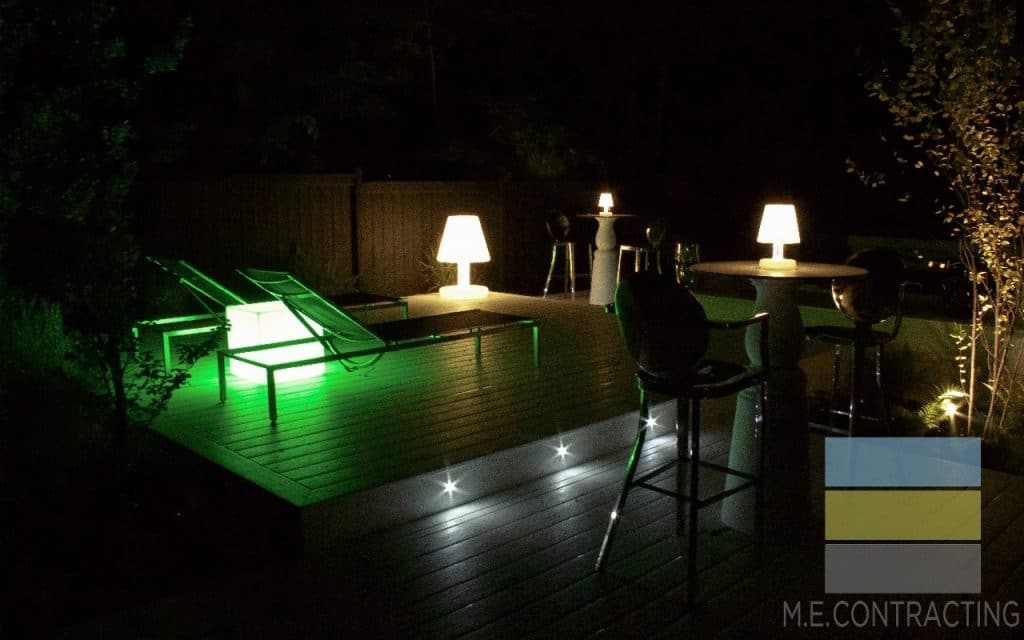 You work hard to bring the property together with a compelling landscape design so the idea that it should just disappear from sight as soon as the sun goes down is a little silly, especially today when there are so many lighting options available. A well designed lighting scheme will also allow you to highlight different aspects of the design then what's seen during daylight hours. In addition it will let you maximize the latent atmospheric potential of the design.
Don't cut Corners on the Support Elements
What would the Trevi Fountain be without the plumbing to support it? Not much is the short answer. The best landscaping architect and designers have always known the importance of creating robust support mechanisms for the various components of a design and it's something you should take to heart as well. Drainage will make or break your design so it's crucial to get it right. A sprinkler system needs to be well considered and properly installed using quality materials or it's just a bunch of wasted pipes and wasted money and it will be the landscape that suffers. There are no shortcuts here. Everything needs to be first rate.
Landscaping Do's
Now that we've got the "don'ts" out of the way let's take a look at the many "do's" of successful landscape design.
Do make sure your Plan is Grounded in Reality
At the start of this guide we talked about the importance of devising a plan before you turn over a single shovel full of dirt. And the importance of the plan cannot be overstated. However, what's equally important is that the plan is grounded in reality. Before you begin devising your plan do what a landscaping company would do: go out into the yard and bring your camera. Take photos from every angle and from the furthest corners of the property. If you don't know exactly how big your yard is, measure it. Note the exact location of trees and any distinctive features. Working from this information you can then devise a plan that will be appropriate for the property you have.
Contact #1 Toronto Landscaping company to know more about Fiberglass pools
Do keep the long term in mind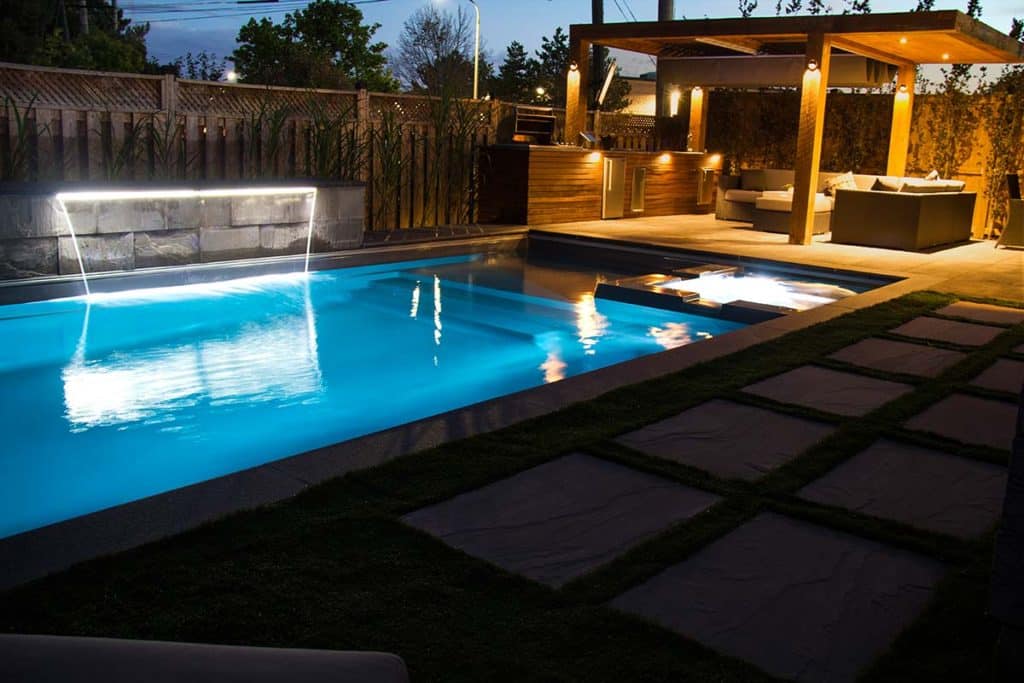 Rosebushes, shrubs and trees grow. As they grow they're going to change the look and feel of the design. They'll also change the maintenance requirements (bigger tree = more leaves to rake). In addition as the trees grow they'll send out ever longer root systems which may wreak havoc under the natural stone floor of your outdoor kitchen or encroach upon the inground pool. Shrubs may need to be pruned on a regular basis lest they begin to overwhelm other flora. Before you introduce any living things into your landscape consider what they'll be like 10 years down the road.
Do go easy on the Hardscaping
As we stated above hardscaping is vital to the success of any landscape design but too much of a good thing could just as easily torpedo your landscape. From a maintenance standpoint it may be tempting to expand the patio or even join it directly to the deck of the inground pool. However, although you won't have as much mowing to do with such a configuration you're also liable to lose a sense of balance in the landscape and make it less friendly underfoot. Hardscape elements are there to inform and support the design. Not to swallow it whole.
6 LANDSCAPING DESIGN TRENDS IN 2017
Do Develop a Budget and Stick to it
We mentioned the importance of not tying up too much money on luxury items but that's only the tip of the financial iceberg. One of the guiding principles of successful landscape design is to know your limits and get the most out working within them. Establish a budget before you begin planning and then, as you're drawing up your plan, be sure to consider how much each item or feature will cost and how big a chunk of your budget it represents. If it's too much you may be able to keep it if you simply scale it back a bit and tweak the design. Or you may be able to devise an alternative feature that fulfills essentially the same aesthetic role for less.
Do Keep Curb Appeal in mind
While most of your efforts will no doubt be focused on the backyard don't forget that your property has a front yard too. Make sure the design motifs of your landscaping extend to the front of the house so that the entire property is tied together harmoniously. You don't have to bust your budget on the front, just make sure the basic elements of your new landscape drive the appearance of the front as well so that there isn't a huge disconnect when walking around the house from the front yard to the back.
Do Consider Maintenance
Proper maintenance is a crucial component of any landscape design and you'll need to consider the maintenance implications of every element you introduce. Keep in mind that maintenance is a double headed monster as well with both a labor and financial component. Some of the yard work you'll want to do yourself and that will take time. How much do you have to give to it? Other aspects of maintenance like pruning trees and repairing the drainage system will likely need to be done by professionals. How much will that cost? It's happened more than once that a homeowner has installed a breathtaking landscape design only to watch it go to seed because they did not have the time or money to allocate to proper maintenance. Don't let that happen to you.
Do use Native Plants
Certain exotic plants may work perfectly within your landscape design on paper but will they actually survive in your yard? Choosing flora that is incompatible with the local climate is a common mistake driven by the best of intentions. It can be avoided by doing a bit of research before you get your heart set on this plant or that. If you're still not sure consult a landscaping company or visit the local nursery and discuss matters with someone there. They'll not only be able to tell you if your desired plant will survive in your yard they'll also provide you with a host of options that may even work better within your design than the plant you had your heart set on.
Do take the House into Consideration
When you create a landscape design for the yard don't forget that there is a house involved. Many an otherwise beautiful landscape design has wound up falling flat because it did not take the house into consideration. The materials you choose will be of particular significance because they must co-exist peacefully with the materials used on the house. Colour is another consideration as you don't want the colours of your landscaping to clash with the colours of the home. The design of the house is crucial too. A low, aggressively modern home is going to call for different landscape elements than a huge Victorian home. Don't design your landscape in a vacuum.
Bonus Round
Keep the above do's and don'ts firmly in mind while designing and executing your landscape and you'll wind up with a property that's more beautiful, more enjoyable, easy to maintain and more valuable to boot. Just for good measure we're going to toss in a few bonus pointers.
Don't be Afraid to Admit Mistakes
If a particular tree isn't working in your yard the way it worked on paper replace it with something that will. If the colour of the interlocking pavers you chose for the pathway looks strange or jarring pull them up and try a different colour. If the decorative retaining wall blocks an important view lower it a bit.
Do keep Pets in mind
We love 'em but we also have to admit that they don't always play nice with the yard. Will your proposed flower beds survive your pets? You may have to elevate them slightly to deter your dog's intrusions. Likewise you should investigate deer resistant plants because, well, there are about 10 million deer running wild in North America these days. Also deer resistant plants will usually be dog resistant plants.
Don't Create Clashing Geometries
If the design of your home celebrates the joys of rigid geometry, straight lines and right angles having a landscape design that is all curves and swirls is not going to work. And vise-versa. Make sure the geometry you introduce into the yard works harmoniously with the geometry of the house.
Do have fun
Your landscaping project will be fraught with potential pitfalls but that doesn't mean you shouldn't try and tackle it. You can make the process easier by partnering with an accomplished landscaping contractor like M.E. Contracting. They'll help bring your concepts to dazzling life and free you up to enjoy the process thoroughly, rather than stressing the placement of every piece of slate or every shrub.
The landscaping design you implement will determine how you experience your home for years to come. Let M.E.Contracting, Toronto help you make sure that experience is a joyful one.
Contact M.E. Contracting to know more about  Landscaping Design Dos and Don'ts @(416) 238-6700