Having a yard with your house is always a valuable asset, and having a beautiful yard is even more so valuable. More and more people are coming to realize this, and are keen to really get the most out of their yard and to see it reach its full potential. One way to do this is to landscape your yard, which is an easy way to increase the value of your property and to make it really stand out from the rest – definitely an investment worth undertaking. Yet whilst more and more people contemplate having their yard landscaped, many are unsure of the difference between hard landscaping and soft landscaping. Here are the key differences, features and benefits of the two, brought to you by a top Toronto landscaping contractor.
In a nutshell: according to this Toronto landscaping contractor, hard landscaping comes first
In simple terms, hard landscaping, or hardscaping, deals with the foundation and shape of the yard, with heavier, more permanent features, meaning it is done before soft landscaping.
In contrast, soft landscaping, or softscaping, is very much centred around the aesthetics of the yard, naturally following the hard landscaping work and building on it.
Hard landscaping in Detail – What is It?
Hard landscaping involves projects that cover the entirety of the yard and that are necessary before soft landscaping features come into play. Hard landscaping is very much altering the foundation of the yard, the "bricks and mortar", and so only once this is completed can you begin to focus on the more beautiful features of the yard,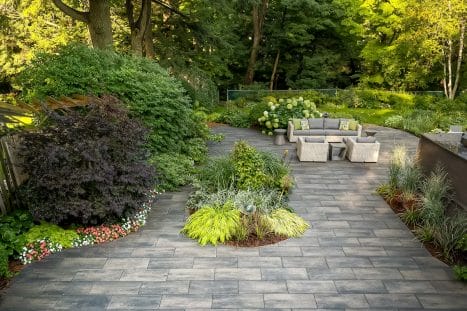 such as the floral arrangements, trees and shrubs and perfecting your color schemes. One key feature of hard landscaping is to do with the absorption of water – something that is of great importance given the climate in Toronto. Hard landscaping ensures that worrying about water after heavy rain or snowfall isn't an issue. The right water absorption and irrigation system installed through hard landscaping, coupled with hard materials that safely move water away from the property can ensure that soil movement is never a problem and that your yard stays a drier, enjoyable living space rather than a wet and muddy bog. There are soft landscaping options that can help to achieve this, but the bulk of this is definitely achieved through hard landscaping.
Once ensuring that water in your yard is no longer an issue, the next step in hard landscaping is to focus on the design. By working with a Toronto landscaping contractor, here you can be in your creative element. Within reason, the shape, design and features of your yard can be completely up to you. Similar to soft landscaping in that you can have free reign in this area, hard landscaping features are much more heavy duty than the fauna involved in soft landscaping. You may choose to have your garden spread out over a series of levels, or to have a patio, or to have a decking area where all the family can enjoy the warm summer nights that Toronto has to offer. As well as deciding on the layout and design of your yard, by working with your contractor you can choose to personalize your yard however you want. Popular features include exciting projects such as installing an outside kitchen, a swimming pool and water features but there are many other possibilities – it really just comes down to your imagination and your budget. A key difference between hard landscaping and soft landscaping here is that whilst many soft landscaping jobs may be possible to complete by yourself, hard landscaping jobs usually require a professional Toronto landscaping contractor to both plan and execute.
Soft landscaping in Detail – What is It?
Once hard landscaping is out of the way, your attention can turn to soft landscaping and you can let your artistic soul run wild. Whilst hard landscaping is completed with a degree of permanence and the long term in mind, a key difference of soft landscaping is that it is much more changeable and living. Plants and vegetation you can change by season, but a swimming pool? That's here to stay.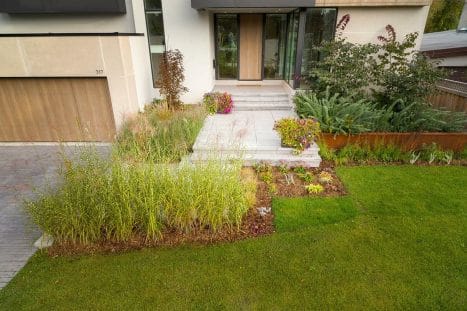 Of course, there are areas where hard landscaping and soft landscaping can work together. For example, a pond in the yard is blend of some hard landscaping features such as stone and planter boxes alongside organic matter such as plants.
Hard landscaping may have a large part to play when it comes to ensuring water issues don't put a dampener on your yard but soft landscaping also has an important impact on this too. Plants, trees, shrubs and cacti are nature's drainage systems, working in tandem with your hard landscaping system, whilst also help to make your yard look pretty and helping the environment.
Soft landscaping raises questions on a personal level, rather than the structural ones that hard landscaping offers. Toronto landscaping contractors are on hand to help you to decide and plan towards whether you want on organic garden in your yard to grow fruits and vegetables, or whether you would rather have flowers – or better yet, both.
In Conclusion
As you can see from what our Toronto landscaping contractor has said, there are key, fundamental differences between hard and soft landscaping. Hard landscaping focuses on structural and more heavy-duty aspects of landscaping, such as the shape, foundation and drainage system of the yard, usually more expensive and more permanent than soft landscaping and definitely requiring the assistance of a professional. Soft landscaping on the other hand is a more personal project, allowing for creativity and independence on how your yard looks. Cheaper in nature and easier to change, soft landscaping can be undertaken either on your own or with the help and expert guidance of a professional. Whilst they are different, both work better when each is designed with the other in mind – the key to a beautiful soft landscaping is a considered and well-executed hard landscaping.
'M.E. Contracting is one of Toronto's premier outdoor solutions company. Founded by owners Keren and Eitan Abu, with a desire to change the face of Toronto through the revitalization of outdoor living space, M.E. Contracting was established. The "M" and "E" stand for Keren and Eitan's daughters, Mika and Emma; from the start these two girls have inspired the vision of innovation and creativity that M.E. embodies today. Want to see for yourself? Our 7,000 square foot landscaping showroom is the only showroom in Ontario dedicated to landscaping and outdoor transformations'