M.E. Contracting is one of the leading Toronto Landscaping companies in the GTA. Design expert, Shai DeLuca with CityLine features M.E. Contractings' work to talk about the dreams and realities of your perfect Outdoor kitchen. We hear about some luxury splurges as well as some cost-effective options for maximizing your backyard dollars.
There are many benefits to having an outdoor kitchen! Outdoor kitchens raise the value of your home, due to their combination of aesthetic and practical functions. They encourage the use of outdoor space and are perfect for entertaining. In fact, entertaining at home provides a more cost-effective and relaxed experience than dining out, which means you might be able to be more social while saving on the hassle of organizing family and friends at an alternative location.

Outdoor kitchens also extend your home's usable living space and create an engaging functional use for an otherwise neglected part of your home: your yard. Finally, there is nothing quite like being able to cook and eat in your backyard, while your indoor kitchen remains clean and cool. If you are thinking about renovating your backyard, why not consider the many benefits of an outdoor kitchen? It is an improvement on your home that your family can enjoy for many years to come.

Sold? We are too! Let's check out some of the ways you can create the perfect outdoor kitchen for your yard. 

What Makes A High-End Outdoor Kitchen?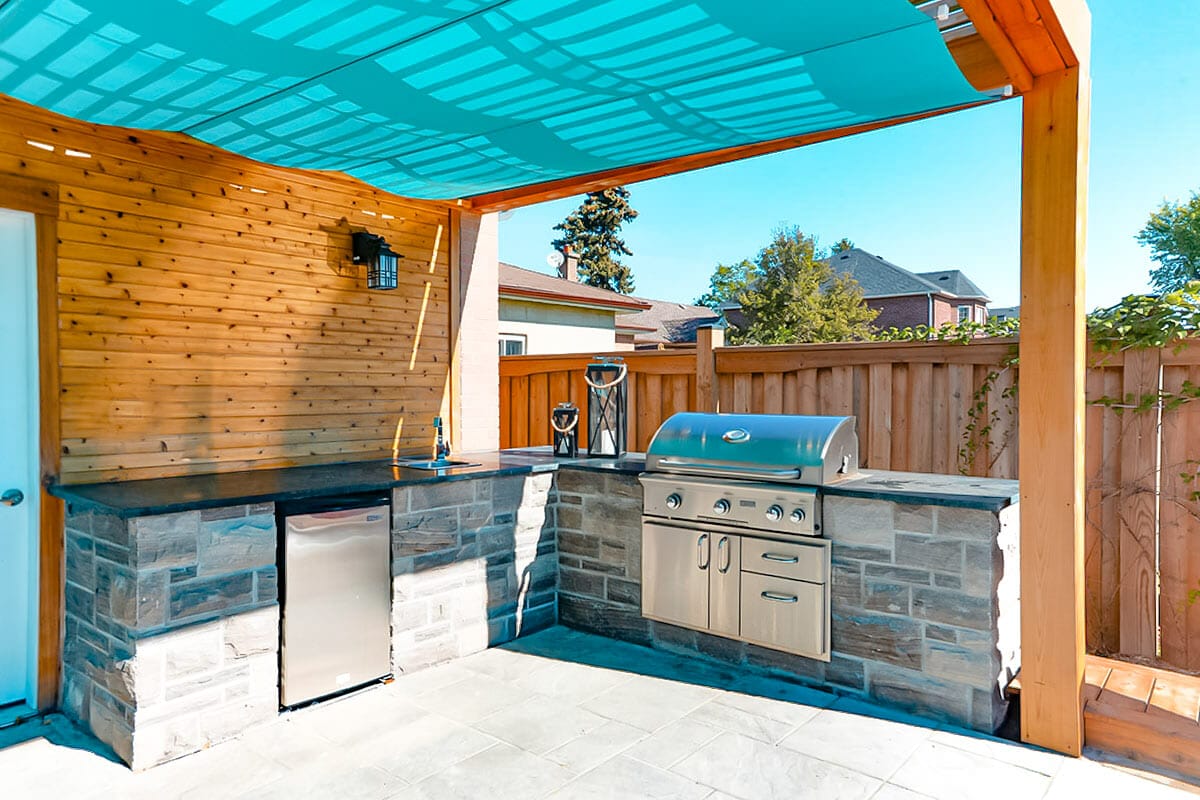 To begin, many appliances designed to be used exclusively outdoors are made of more long-lasting materials. Higher-end materials, such as stainless steel, are built to handle outdoor conditions. This adds value to your outdoor investment but comes at an added cost.  Further, any outdoor plumbing, such as what is needed to include an outdoor sink, will increase costs.

The materials that go into the appliances and fixtures you choose will affect the cost. The style and aesthetic play a factor here, as specialized stones for countertop and backsplash can all raise the initial costs of your outdoor kitchen.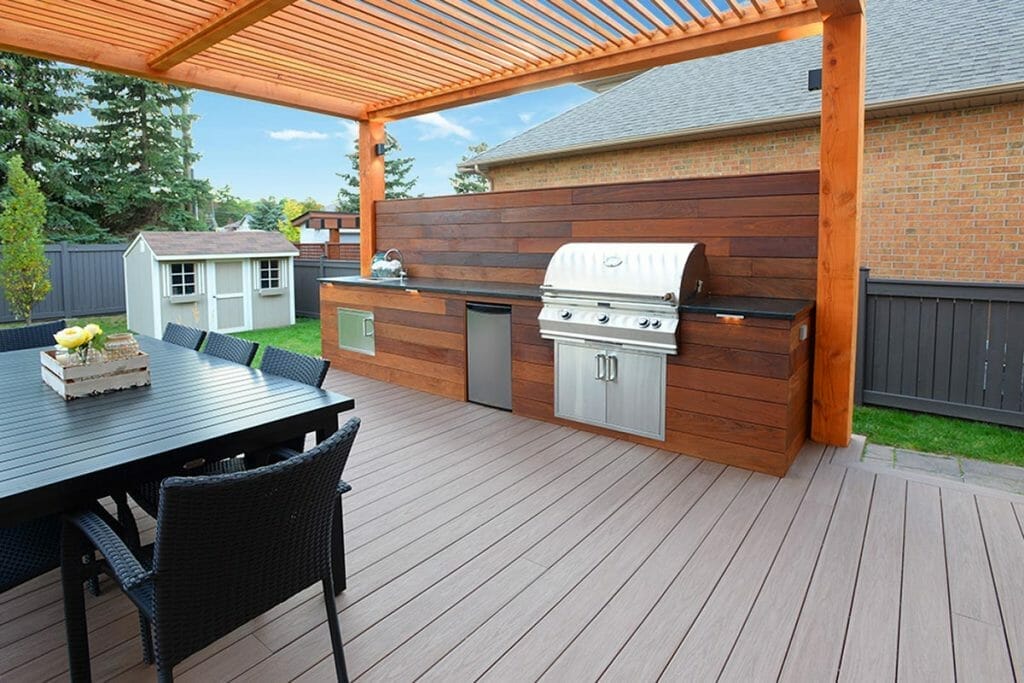 Examples like this kitchen above, still include high-end appliances with luxury finishing touches, but can be installed at a reduced cost by including things like wooden (versus stone) backsplash.

Outside of the appliances and the materials they are made of, the next biggest factors influencing cost are the smaller stylistic choices affecting the look and feel of your renovation. Thankfully beautiful designs can be found at a variety of different price points. The average price range for the types of kitchens here runs between $40,000-$60,000. 

Building outdoor kitchens for every budget
We've discussed that appliances are some of the most important investments to an outdoor kitchen, and we know quality is well worth the price. However, there are countless ways to build a beautiful kitchen outdoors without sacrificing quality at the expense of cost.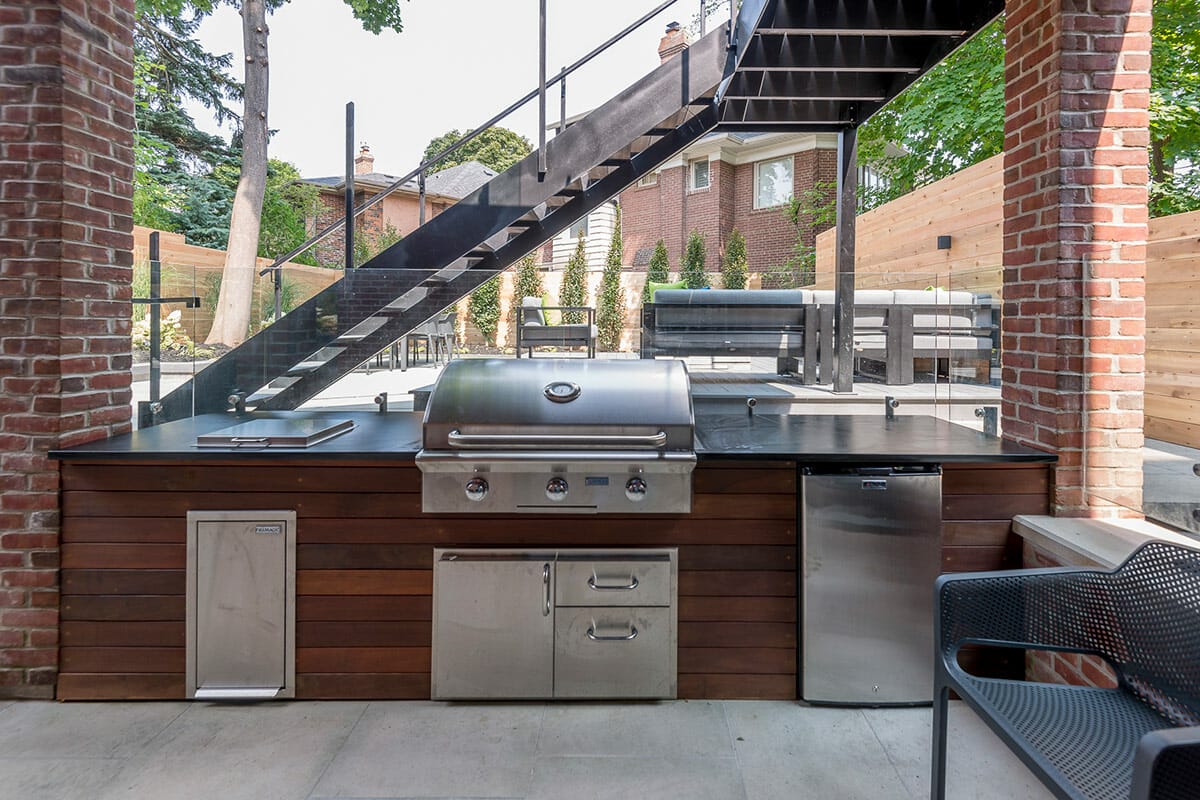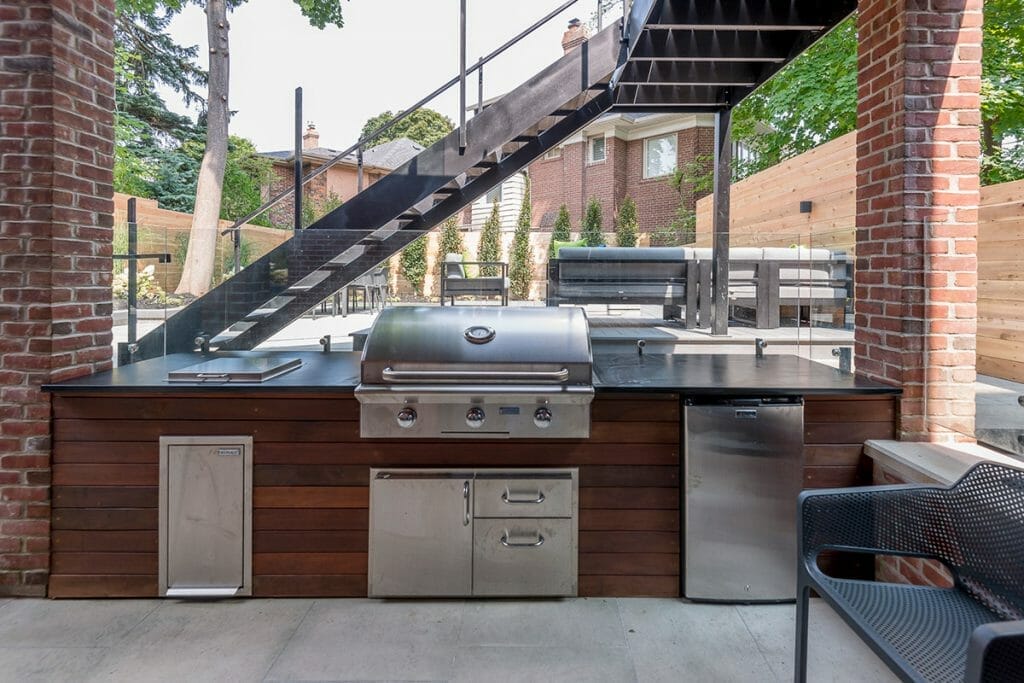 One cost-effective and elegant solution is a galley-style kitchen. These long, single-wall style kitchens are more economical for both space and finances. Choosing economical options like galley design reduces surface area, and wooden backsplashes are both economical and beautiful.

Cedar, teak and stone surfaces like soapstone, or sealed concrete can all provide beautiful finishes, meant for exposure to outdoors, at different cost levels.

Still Looking For A Show-Stopping Outdoor Kitchen Without Breaking Your Bank?

There are always options to maximize your space with creative cost solutions. One of them is to install a "floating kitchen"  like the one seen in this photo below.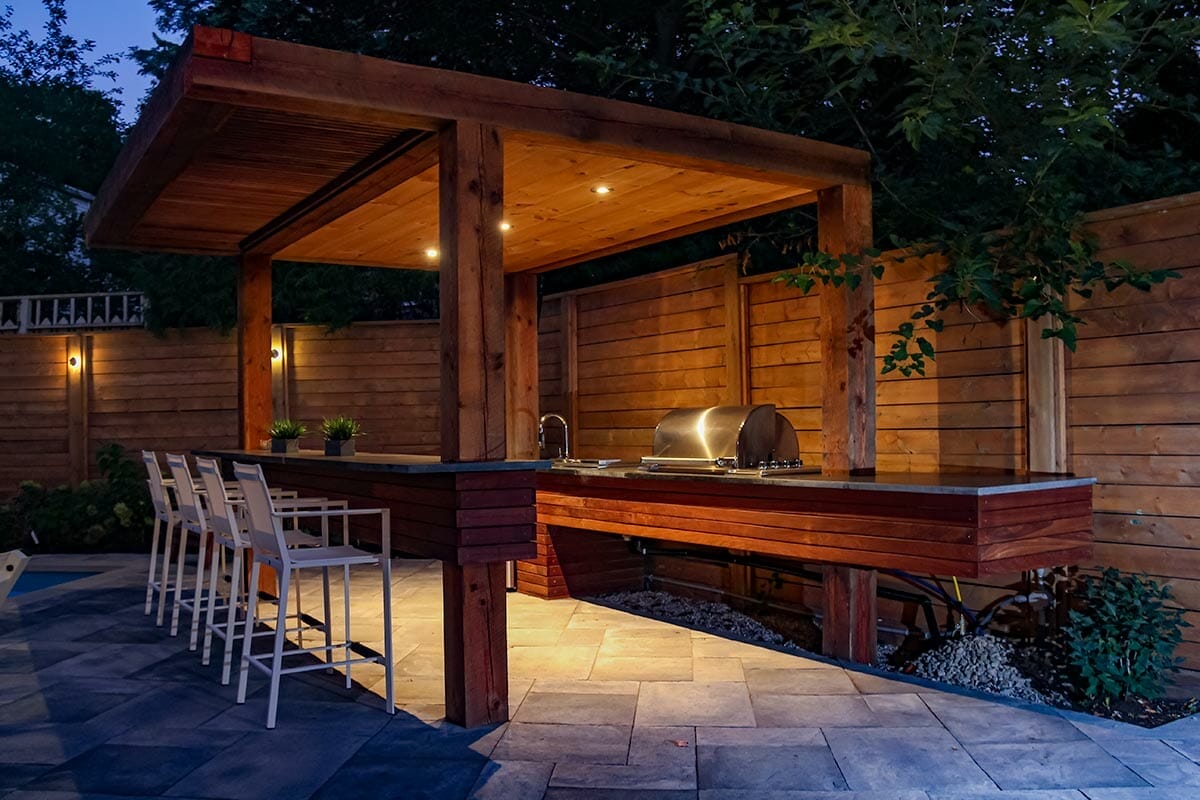 Floating kitchens are cost-effective because they are free-standing, which requires less material. The reduction in material costs directly translates to a reduction in price point. With a floating kitchen, you can still include a grill, but an under-the-countertop oven or specially designed storage won't be a priority, which further reduces costs.

Maybe you're not quite ready to do a total backyard overhaul this year? That's okay! A grill with wings to add additional space, a standing bar cart that can hold drinks, glasses, or culture, and a few well-chosen patio chairs and accent pieces can jazz up your space with minimal costs. Your backyard is better when it's beautiful.


M.E. Contracting is Toronto's award-winning deck builder and leader in quality outdoor solutions. Whatever your renovation dreams are, M.E. Contracting can help. To find out more about M.E Contracting, visit their gallery page here. 

'M.E. Contracting is one of Toronto's premier outdoor solutions company. Founded by owners Keren and Eitan Abu, with a desire to change the face of Toronto through the revitalization of outdoor living space, M.E. Contracting was established. The "M" and "E" stand for Keren and Eitan's daughters, Mika and Emma; from the start these two girls have inspired the vision of innovation and creativity that M.E. embodies today. Want to see for yourself? Our 7,000 square foot landscaping showroom is the only showroom in Ontario dedicated to landscaping and outdoor transformations'