As Canadians, we love the outdoors. And our backyard is no exception. That's why so many people in Toronto transform their outdoor spaces into extensions of their own unique homes.
Whether it's winter or summer, your outdoors can be transformed into a haven of relaxation and entertainment. The possibilities are endless. But then again, that's part of the problem.
We all know it makes sense to make the most of our backyards, but when you're bombarded with so many ways to do it, we get overwhelmed and put it off until the next year.
At M.E. Contracting Toronto Landscaping company, we've been landscaping residential and commercial properties in the Greater Toronto Area for over a decade now, so we like to think we know a thing or two about outdoor landscaping.
And that's why we've put together this guide on the differences between Patios, Decks, Porches, Verandas and how to choose between them. We hope it goes some way to clearing through the fog of information, bringing you one step closer to making that backyard dream a reality.

Table Of Contents
How this Landscaping Guide will help you
?
Before deciding on how to enhance your outdoors, it's important to know what your options are, and whether they will suit you and your circumstances.
All options provide excellent venues for relaxation, entertaining and dining. You can have an enormous amount of fun decorating and choosing outdoor furniture, plants and features.
All will enhance the value of your home. But there are subtle differences to be aware of before you decide which is right for you.
Your choice will differ based on your lifestyle, home size, family size, the amount of land available and, of course, your budget. And remember—whatever you choose, always consider whether you need a building permit.
So here's a breakdown of what to expect from Patios, Decks, Porches and Verandas so you can choose which is right for you and your home. This Guide has a brief explanation with great example and explaining the different between Patios, Decks, Porches, Verandas.
Patios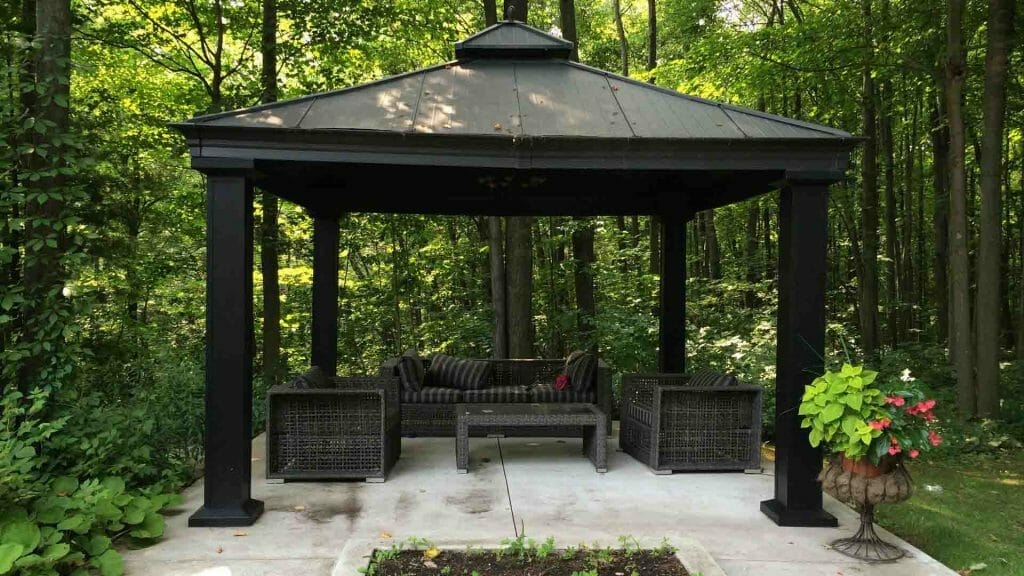 Originating in Spain, where for centuries they'd been open-air appendages to homes, Patios have only been popular in Canada since the last half of the Twentieth Century.
And they've been very popular indeed. A large part of this is down to their versatility—a Patio can be attached to, or detached from, your house. It can be left open to the elements, partially covered or completely closed off by a roof, depending on your needs for shade and privacy.
Patios are usually built on the same level as the ground, requiring no elevation and often no building permits. This puts them at the entry level of outdoor entertainment spaces. And whilst they can be paved with a huge variety of materials, the most usual are concrete, ceramic, bricks, tiles, cobbles, gravel or flagstones.  Read more about Patio Design
Think about where you want it on your property. If you have a pool, enhance the space by surrounding it with a patio for lounging on. If you've had a landscaping designer construct your perfect garden, putting a patio in the middle would be the perfect feature and a lovely way to enjoy it.
The location will often be dictated by what you use it for. As an example, if you're using it mostly for dining, then make sure it's either near the kitchen in your home, or an outdoor kitchen. And if year-round entertaining is your thing, why not install an outdoor fireplace?
If you value your privacy or just want your patio to be protected from the elements, you can cover it with a range of different roofs—curved, gabled or flat.
A patio will last you for years and, depending on usage and the types of materials used, maintenance will be minimal.
Decks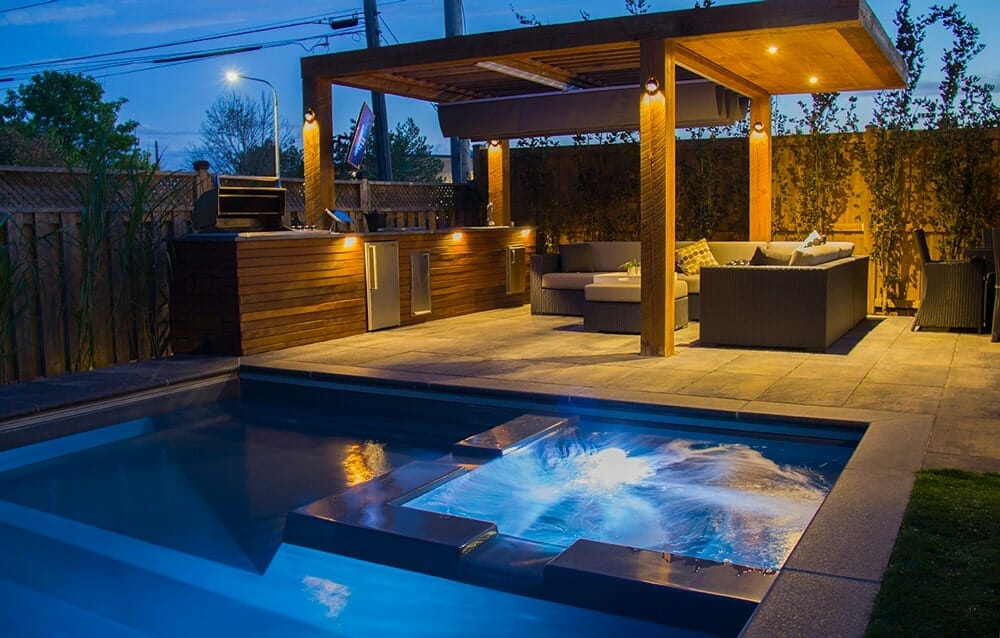 Decks are probably the most popular outdoor addition on this list. Their appeal lies in their rusticity, the sense of warmth and well-being they add to any home. Who hasn't whiled away a summer's day on the deck of a neighbour or friend?
Most typically, they are defined as raised platforms joined to, or independent from, your home. And, like patios, they can be roofed or roofless—it's up to you and your preferences.
There are many types of durable materials you can choose for your decking that are both pest and weather resistant and will keep your decking looking beautiful for years to come, provided you care for it properly. The first material that often comes to mind for decking is wood, but there are other options which may be more suitable for you.
Contact leading Toronto Landscaping company to get Free Estimate
For example, wood decking such as Cedar and IPE are the most popular for this purpose as they look beautiful and are both naturally resistant to insects and decay.
Then we have composite materials such as AZEK , Fiberon, and Trex decking. These require less on-going maintenance than wood as they don't crack or suffer from damp over time, which is something to consider in the damp Toronto climate!
Lastly, PVC decking is usually more expensive than wood or composite but has other advantages such as greater durability and lightness. What material you choose will depend on your preferred aesthetic and budget. There's an option for everyone.
Another consideration for decking is how high you'd like to elevate it off the ground. More than 18 inches, and you'll have to add railings. Railings aren't just a safety feature—they add additional aesthetic charm to your decking, and are as important to the overall look of your Deck as the decking itself. The most popular materials are aluminum, glass, stainless steel and wrought iron, which can be found in many different styles according to your preference.
And do you want a multi or single level deck? Decks may be on one single level or on many, connected by stairs. It really depends on your needs, space and available budget. Multi-storeyed decks can serve varying purposes—the lower section for entertaining and the upper for access to the upper part of the house, as one example.
Again, like Patios, Decks can be freestanding or attached to the house. Freestanding, they make a perfect pool-side entertainment space or a haven from which to enjoy your newly landscaped garden.
And, like Patios, they can be roofed by a canopy, pergola or any covering providing shade and privacy.
If you have a small yard, don't despair, there's always the roof deck option. Roof decks are a different animal—these are located (as the name suggests) on top of your roof. So you must be sure your roof supports the weight of a deck—always get a professional landscaping architect to check this.
Both Patios and Decks are extensions to your interior space, and can be built separate to it. Whereas Porches and Verandas—up next— are, by definition, part of your main home. Read more about Deck design
Porches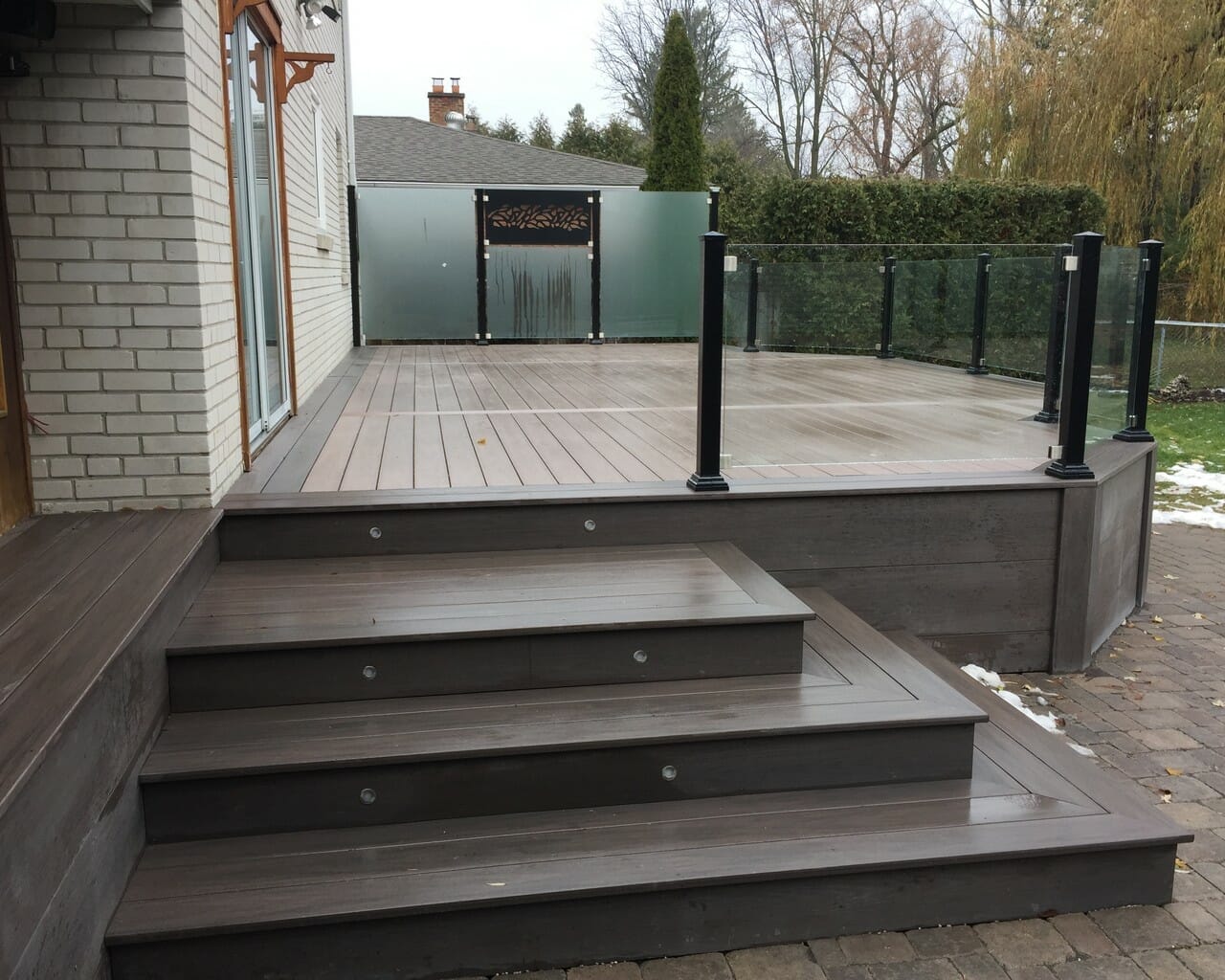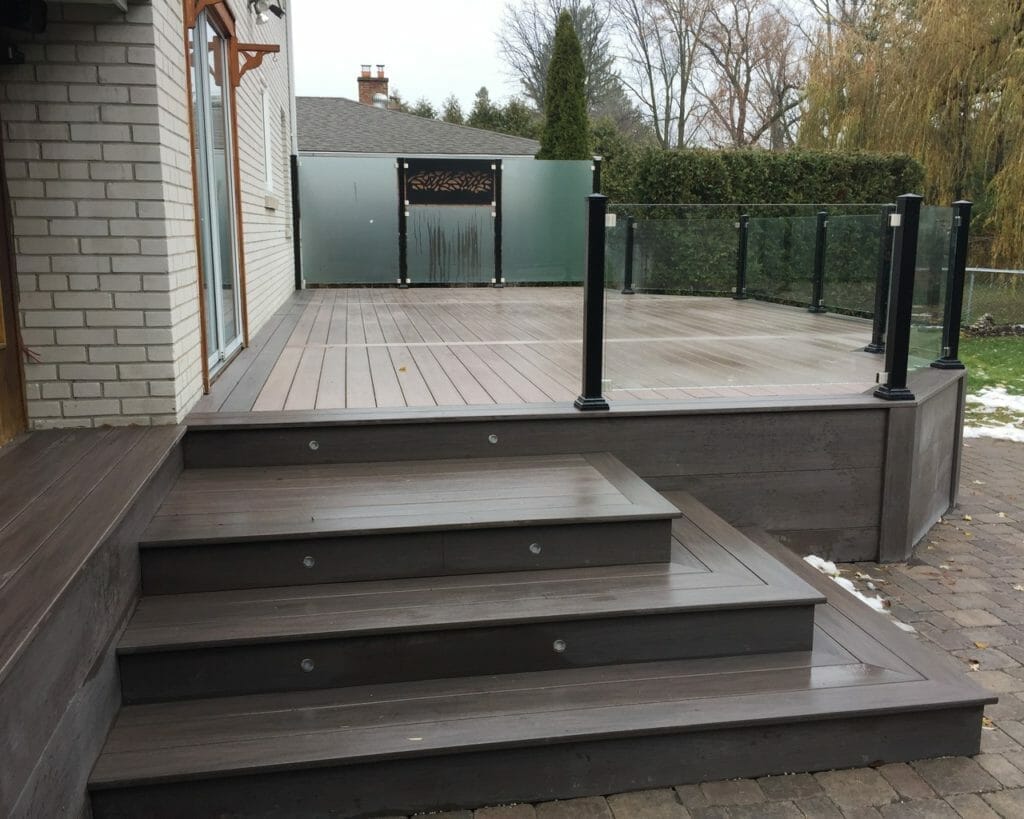 Porches have a grand history, originating in ancient Greece, where they shielded the entrance to temples. And by the 1800s in North America, the porch was an architectural staple.
Porches have always been a way to protect homes from the sun in the summer, and the snow in the winter. In a time way before air conditioning, it was where family members went to cool down. It's long been an iconic place of convivial meetings, entertainment and relaxation.
It wasn't until the post World War II housing boom that the popularity of porches began to wane, and outdoor living was confined to the backyard.
Porches are attached to, and part of the structure of the house, forming a covered roofed vestibule to the front or back doorway. They are usually either open at the sides, or enclosed by walls, windows, columns, screens or latticework. The more enclosed the Porch is, the more useful it will be as a year-round living area.
The Porch is a true extension of the living space in your home, and is perhaps the most social of all—usually facing out onto the street where fellow Torontonians pass by.
Porches offer a sense of nostalgia, and conjure up images of times gone by—old ladies sitting on their rocking chairs watching as the world go by. Of a time when we were more connected and lived a slower, more wholesome, way of life. If you pine for this way of living, then a Porch is the way to go.
Usually approached by steps, Porches are on the same level as the main living area of your home. They serve an important transitional space from the outside to the inside, as a barrier to the mud and grit of the outdoors.
Looking for Latest design ideas for your Toronto Home, check our Portfolio Today!
As Porches (and Verandas, up next) are an extension of your home, there are greater restrictions in terms of building permits than with other outside spaces. Before appointing a landscaping architect, check first to see whether this is a viable option for your Toronto home.
Verandas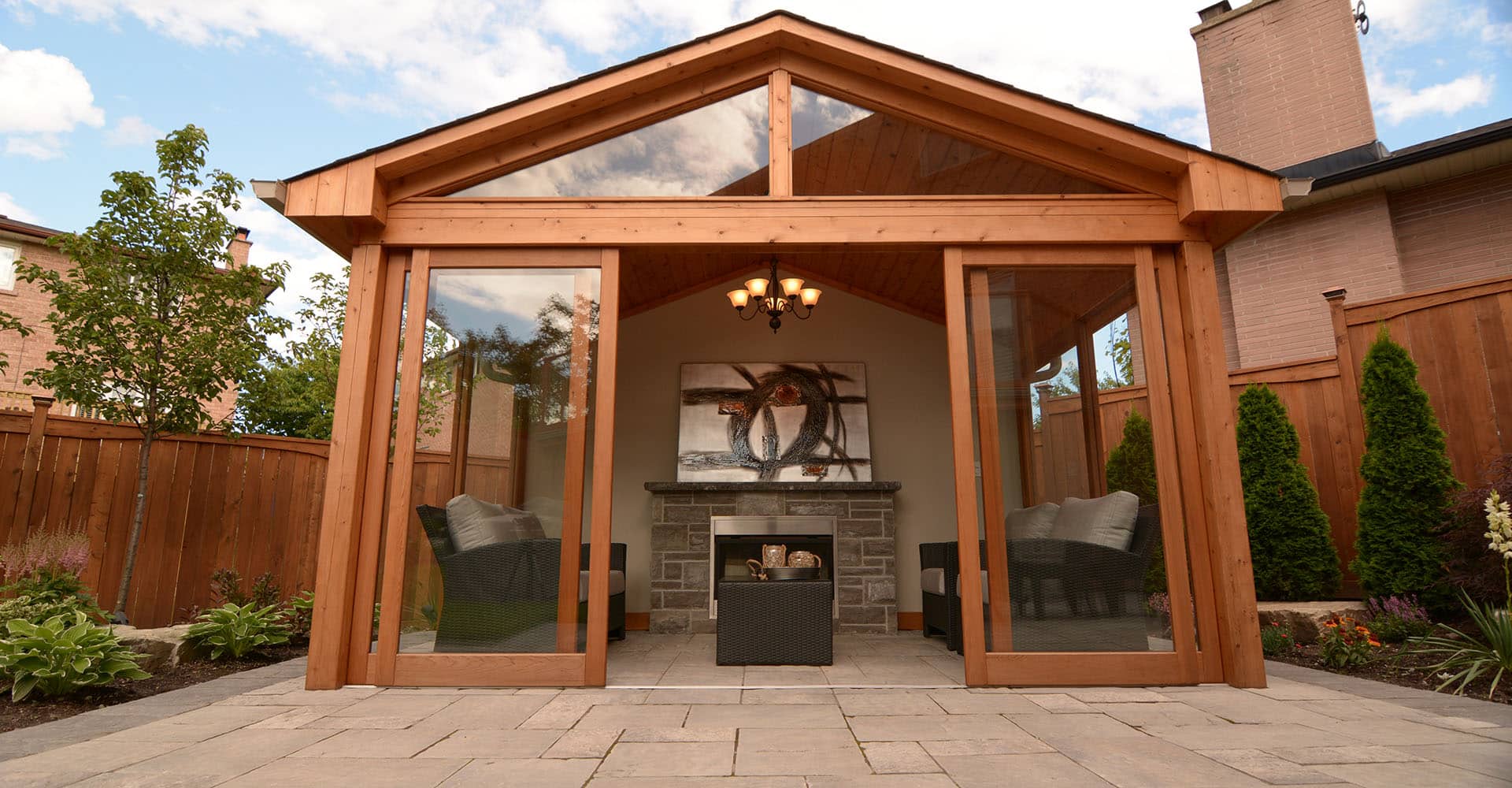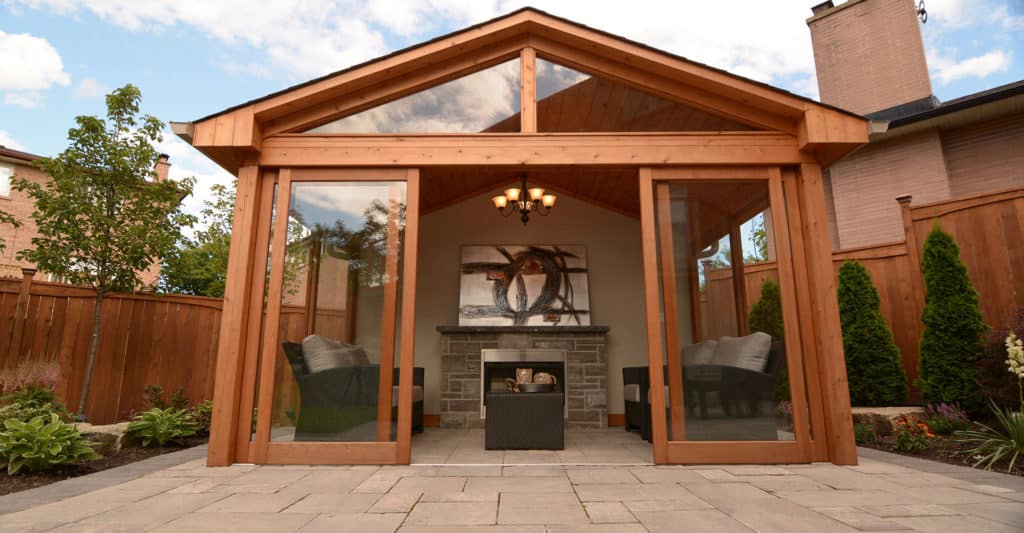 The word Veranda (also spelled "Verandah") is said to originate in India, where it was a standard architectural feature in the baking heat of the subcontinent.
They became as popular as Porches in Canada, as another way to protect your home from the elements. So what's the difference between a Porch and a Veranda? A Veranda is a balcony, gallery or platform, large and open, usually with a roof, and sometimes encircled by a railing (particularly if it's high up).
Like a Porch, a Veranda is part of the architecture of your home and is usually on the same level as the ground floor. But, unlike a Porch, it does not need to correspond, or be attached to, any of the entrances. It can extend from a living room or any of the rooms in your home. You may have heard of "Wrap Around Porches"—these are actually Verandas that extend all the way around the house.
If you decide that a Porch or Veranda is right for you and your home, you need to consider guttering. As they're attached to your home, care needs to be taken when fitting guttering. Ensure they flow away from, and separately to, your house gutters—directly into the storm sewer, if possible, to avoid over-burdening your own pipes and foundations. The last thing you want is extra water being channelled into your home, springing leaks where you least expect it.
So that's our guide to Patios, Decks, Porches and Verandas. We hope it's given you some ideas on how you can transform your backyard into the perfect outdoor space for you.
And whatever you decide to go for, consulting a landscaping designer will ensure it's done well and in line with your vision.
Why M.E. contracting is Toronto best Landscaping Company?
We are the premier outdoor contractor for the Greater Toronto Area. For more than a decade we've been building innovative and high quality landscapes, so we know there's a lot to consider when planning and constructing a beautiful outdoor haven.
That's why we work with you using the most up to date computer modelling software to give the best idea of what your dream designs will look like when built, reconfiguring until you are completely happy with the result.
So why not send us an enquiry or swing by our 7,000 sq. ft. landscaping studio to see our work and talk to one of our professional landscaping architects?
As the only showroom in Ontario dedicated to landscaping and outdoor construction, we know you'll find the information you need to get your project underway!
We approach every new piece of work we do with your needs as the top priority, and we want you to be happy with our work for years to come. Long-term relationships with our fellow Torontonians and word of mouth is what keeps us in business. So you can be confident we will strive to exceed expectations every time.
M.E. Contracting awarded best of 2017 and 2016 by Homestars over 240 Reviews with 9.8/10 rating show how committed we are and Quality we Provide is award winning. check our Testimonials to know more.
We stringently follow the principles of design and professional conduct as recommended by Landscape Ontario, RHL. So whatever your landscaping vision, whether it takes the form of a Patio, Deck, Porch or Veranda, M.E. Contracting will work with you to make it a reality.
Call us today at 416-238-6700 to schedule a free, no obligation consultation! We look forward to creating the yard of your dreams.
Other Resources