An outdoor fireplace can provide a huge number of benefits to you and your home. It can add to the appearance of your house and raise its overall value, and it can provide a warm center where your friends and family can congregate. Fireplaces have long been the centerpieces of homes, and an outdoor fireplace can provide a similar feel to yours. However, choosing and installing one is not something to be taken lightly. Because you are dealing with fire, after all, a great deal of care and attention must be paid beforehand to ensure you choose the proper type of outdoor fireplace to suit your Landscaping needs, as well as making sure it's correctly installed.
Get a Free Estimate @  (416) 238-6700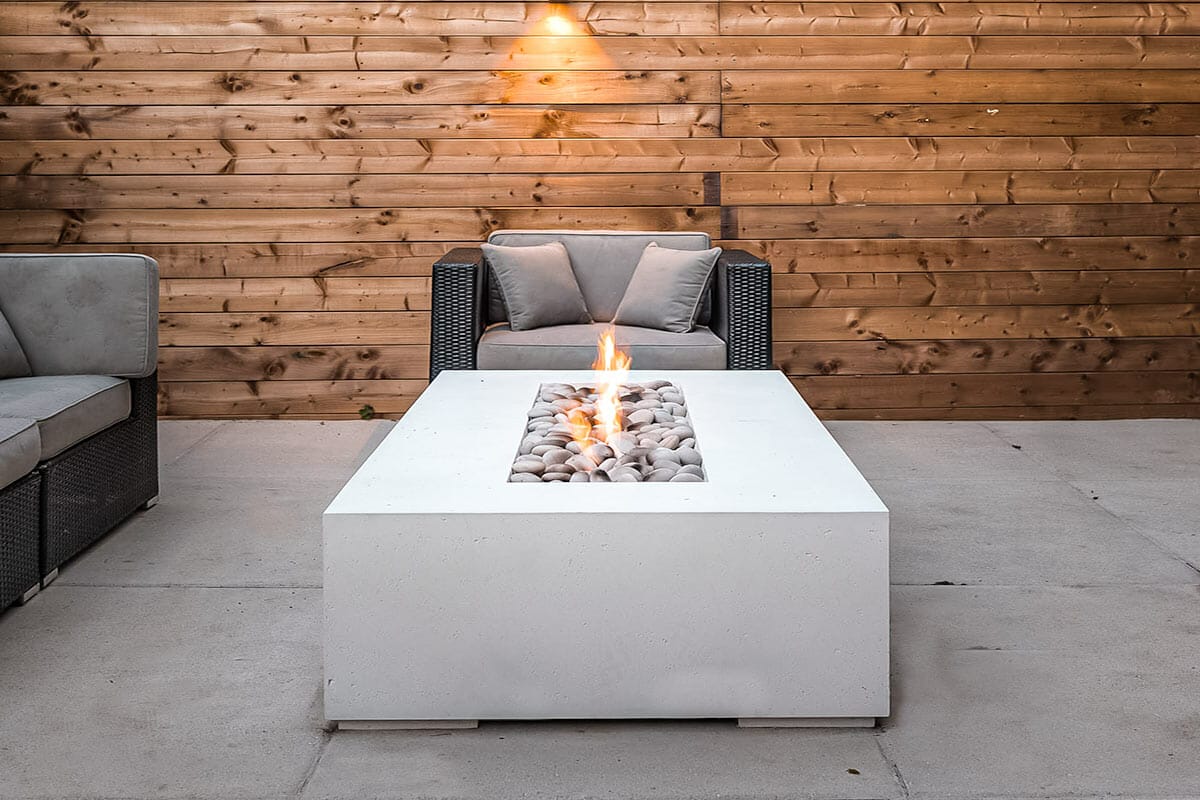 Types of Materials for outdoor fireplace
Outdoor fireplaces are available in a vast array of materials and styles, each one of which presents its own unique pros and cons.
Concrete – Concrete fire pits, are made to be durable and sustain the outdoor elements for years to come. The unique Ultra light concrete fire pits are 100% concrete and less than half the weight of other providers; making them easy to ship and install. Providing unlimited entertaining opportunities to make any experience memorable.
Cast Iron – Cast iron outdoor fireplaces are probably the most common and most easily recognizable, and for good reason. They present a solid, imposing picture, and they serve their purpose well. Cast iron is highly durable and very attractive to look at, but it does have a few drawbacks. Cast iron is highly susceptible to rust, and special care must be taken to prevent that. Additionally, it is incredibly heavy and should only be installed in areas with enough strength to support it.
Copper – Copper is very durable and doesn't have the tendency to rust that cast iron does; however, it does become discolored fairly quickly. After installation and use, a copper outdoor fireplace will lose its glistening golden sheen and become a dull green. For those who don't mind that, copper is a strong, durable material ideal for this purpose.
Stainless Steel – Stainless steel outdoor fireplaces are incredibly durable and highly resistant to rust and other types of corrosion, but they are also very heavy and expensive.
Cast Aluminum – Cast aluminum is not as well known as many of the other types of common outdoor fireplace materials, but it is one of the best-suited metals for this purpose. It is highly resistant to corrosion and rust, and it requires very little maintenance. It is relatively light compared to cast iron and stainless steel and doesn't need quite the same level of support.
Outdoor fireplaces are available in a number of additional materials as well, and thorough research should be undertaken before narrowing down on any specific one.
Get a Free Estimate @  (416) 238-6700
Types of Fuel
In addition to deciding which type of material would be best suited for your purposes, you need to also decide which type of fuel you wish to burn. If you already have propane or natural gas outlets on your deck or in your backyard, then the choice is simple, but if not, you have to decide if you want to install those outlets or stick with purely natural sources of fuel.
With so many choices, it can seem daunting to go it alone. Thankfully, though, the outdoor fireplace experts at M.E. Contracting are available to help you sort through the myriad of choices so you can narrow down on the very best option to suit your needs. M.E. Contracting is Toronto's award-winning deck builder and leader in quality outdoor solutions, we have been in the business of constructing and installing outdoor fireplaces for years, and we know exactly what it takes to get one installed and working perfectly. We know the pros and cons of each type of material, and we are more than happy to sit down with you and help you choose the very best one.
If you have any questions about an outdoor fireplace, or if you would like to get started on getting your very own, give the experts at M.E. Contracting a call now!