For active homeowners who do a lot of entertaining for their families and their large circle of loved ones and friends, nothing adds more utility and value to a residence than a patio design that is well-thought-out and smartly constructed.
Your patio not just adds up to your landscaping design but it's also a place for social gatherings and making memories with your friends and family! Consider all of the summer outdoor meals and celebrations for every occasion that takes place out there. That's why your patio needs to be comfortable, flow naturally, and reflect the personality of your family and the look of your home.
Patios, which first gained popularity in Canada about 50 years ago, are an ideal way of enhancing your outdoor living area. As the premier landscaping contractor serving the Greater Toronto Area, we've developed the expertise over the last decade to meet all of your needs when it comes to a patio – whether building a new one or renovating an existing patio.
Components of the Patio Design Process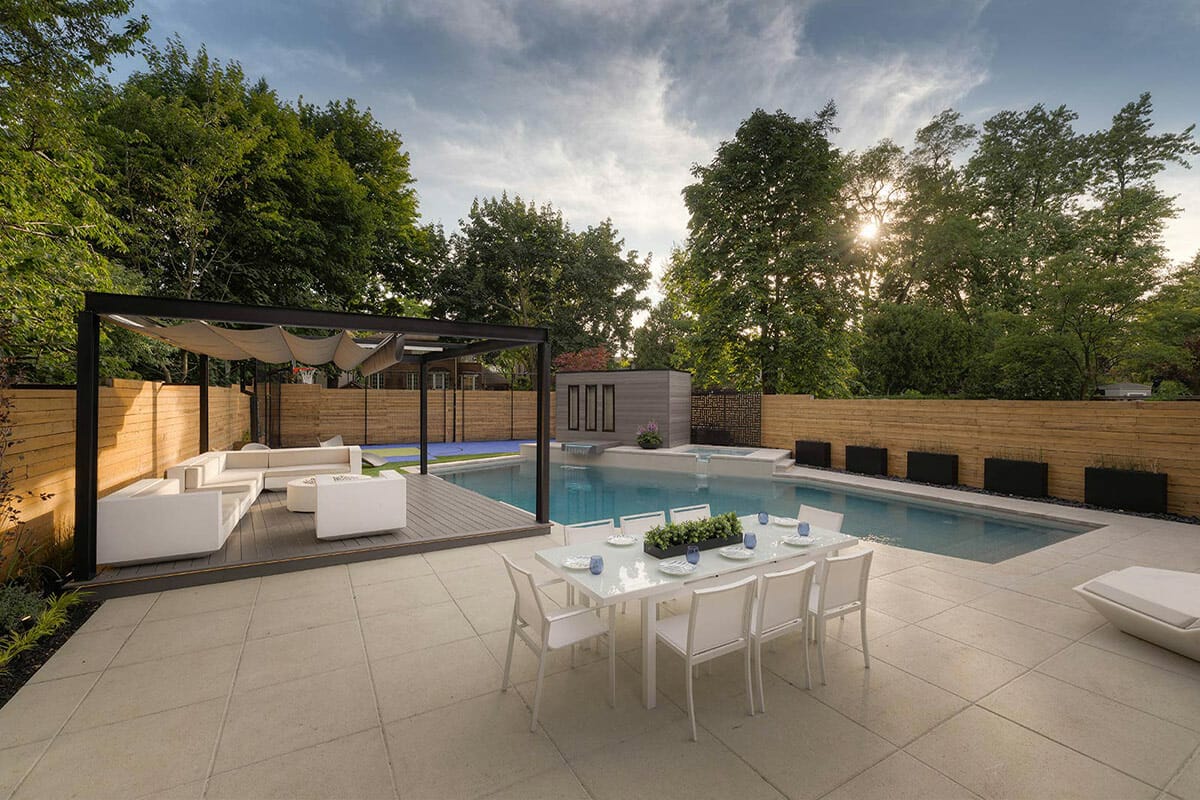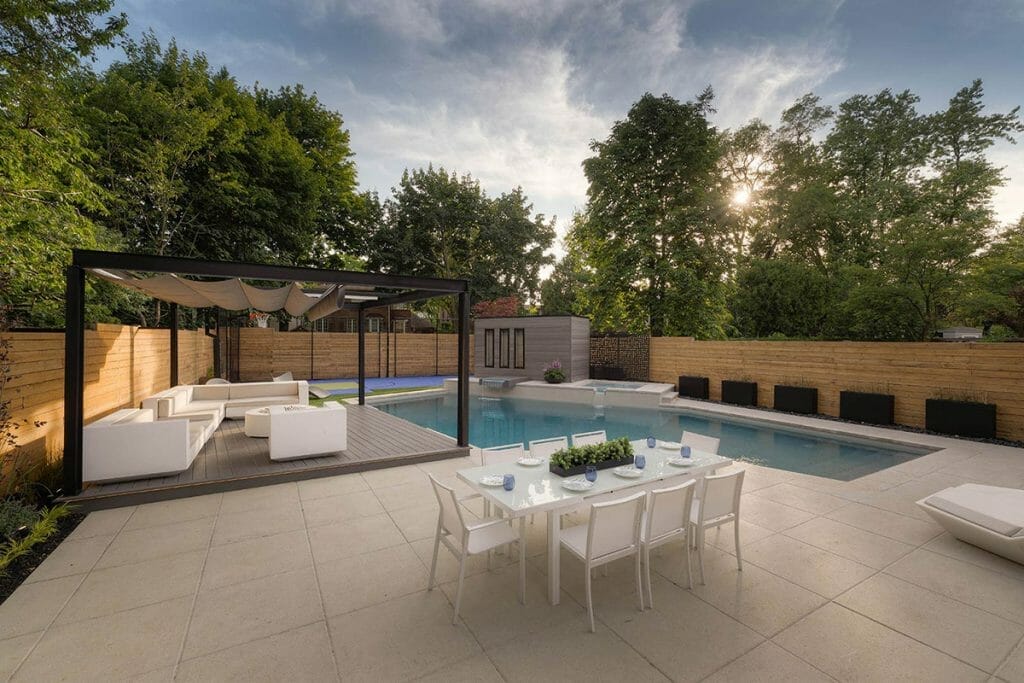 Beautiful patios are not simply breathed into being. There is a lot of work that goes into designing the perfect patio, and most of it is done pre-installation. These include:
Determining a budget
Deciding what you do and don't like
Evaluating the area and its limitations
Drawing up a construction plan and design
Sourcing materials
Hereafter, installation takes place using all of the information gathered in the patio design phase. Without correct design procedures, the construction of your patio could go terribly wrong. Measurements could be incorrect, constructions may not fit, and the entire structure could be unsafe.
Get a Free Estimate @  (416) 238-6700
Hire the Professionals
Not all of us can be patio design gurus! This is a good thing considering the complex technicalities and constructions that go into creating a great patio. At M.E. Contracting, we have skilled patio design professionals in-house who can assist you in realizing your patio dreams. This way, all of the complex background work is taken off of your shoulders and put into the hands of an expert who can draw up a design to your specifications. After this, our qualified contractors take over and turn a drawing into a reality! While this may sound simple, going at it alone without the assistance of experts can be daunting and unsuccessful.
The Importance of Determining a Budget and Knowing What You Like
It is always helpful to our design professionals when you know what kind of direction you want to go in. If you know how much you can spend and the type of patio that you like, the entire patio design process becomes a lot easier and goes a lot quicker. Examine your finances and determine a realistic top-end. Once you have established this, look through magazines or gain inspiration from television renovation shows and the patios of friends and family. Even if you do not know exactly what you want, you could get an idea of the types of things that you like. Pinpointing exactly what you don't like can also be extremely helpful to our design professionals.
Get a Free Estimate @  (416) 238-6700
Patio Flooring
Your patio flooring can really be an aesthetic design focal point if you want it to be. Forming the actual base and structure of your patio, and patio flooring is something you will have to deal with relatively soon. Besides regular concrete, here are a few patio flooring options:
Natural stone – Here, materials like granite and flagstone are options. Natural stone is great because it looks like a part of the outdoor environment and is low maintenance. At M.E. Contracting, we have professional experience in the installation of natural stones, which is imperative to a successful application.
Ceramic tiles – Although not as aesthetically pleasing as natural stone, ceramic tiles are affordable and come in many textures to reduce slipping. Maintenance may be a bit laborious though.
Decking – M.E. Contracting is Toronto's award-winning deck builder, we have the widest variety of decking options that are durable and weather resistant. They came in a variety of materials and stains or colors to suit your taste.
Our courteous and highly trained design professionals can answer all of your questions about patios, and even use computer modeling software to quickly design several options to look at and reconfigure till you find one that fits your taste, needs, and budget. We adhere to the standards recommended by Landscape Ontario, RHL for design, installation, and professionalism.
This means you should have no doubt you'll be treated with the utmost respect and can be confident in knowing we understand something many of our competitors don't – that the project and the budget are yours. While we offer a multitude of designs and accessories to choose from, such as single or multi-level patios made of wood, plastic, or composites, our company prides itself on fulfilling your needs first, and ours second. For more information, get a hold of us today online, over the phone, or in-person at our main location. You won't be disappointed.
Call M.E. Contracting today for a free no-obligation consultation to discuss your patio and outdoor lifestyle
From intricate measurements to landscaping and actual construction, there are a variety of components that go into the patio design. Put your patio in the hands of a professional by booking a free consultation with M.E. Contracting today!