An Outdoor Kitchen is the capstone to any beautiful landscaping design. It provides the perfect outdoor area for entertaining guests in your home. You can just imagine a nice dinner outside during a summer evening with friends or a fun barbeque with the neighborhood families during a hot summer day. 
But with these great memories can come a massive price tag. An outdoor kitchen can take up a huge part of your budget when it comes to designing a landscape for your home. But for those on a budget, an outdoor kitchen can still be in your sights. All it takes is some planning, and the help of your landscaping contractor. Here are a few tips you can keep in mind while discussing things with them.
Focus on the Foundation of your Outdoor Kitchen
An outdoor kitchen will be expensive no matter what. Even if you try to reduce the costs as much as possible, the investment is still considerable. So if your budget currently really isn't feasible for the outdoor kitchen setup you're looking for, leave it for when you can afford it.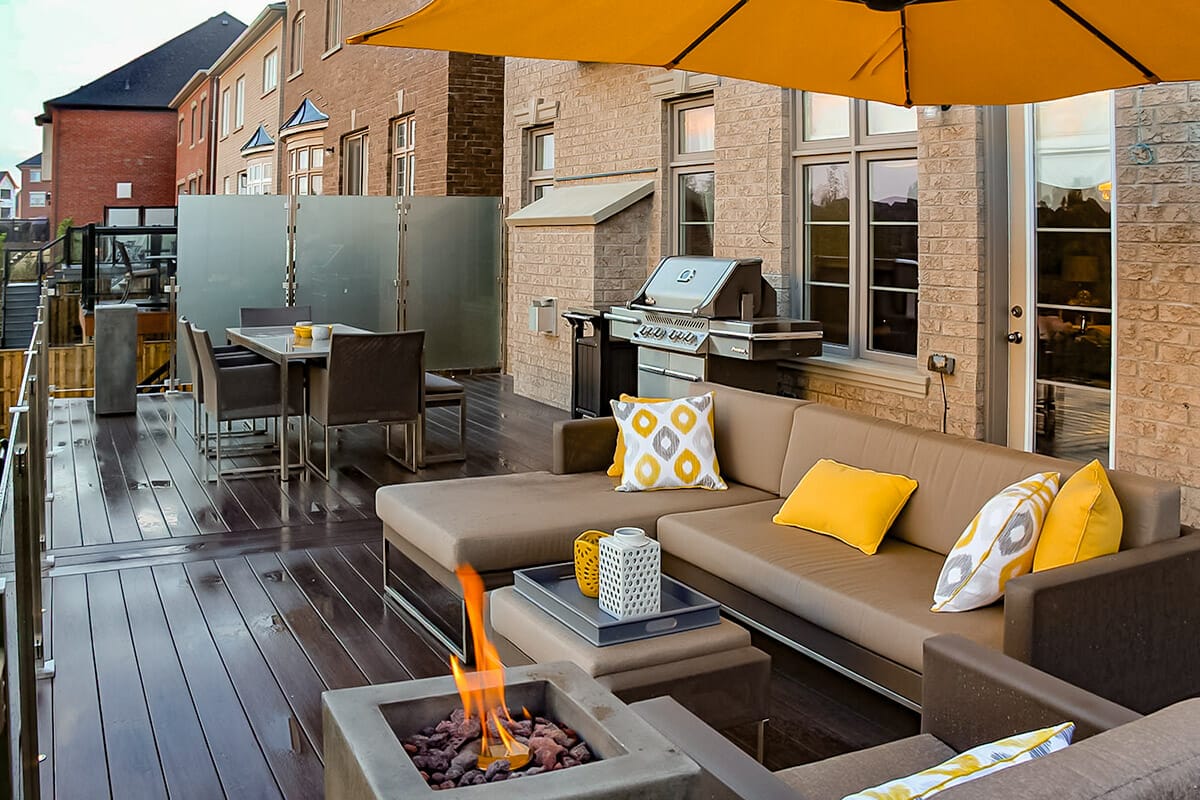 Instead, you can plan ahead for when you can afford the luxury of a fully featured outdoor kitchen. Speak to your contractor about reinforcing your deck now and adding in the electricity, gas and water lines in preparation for your future upgrade. This will save you money later because you won't need to have the deck taken apart to install these utilities.
Meanwhile, you can purchase a grill that can be put on a cart and made portable that can, in the future, be directly installed onto the counter. This way, you'll still have the opportunity to entertain guests outside while you save up for that full kitchen upgrade.
Narrow your Outdoor Kitchen Down to the Essentials
Say you still want that complete outdoor kitchen done now, but are still on a tighter budget than you'd like, what should you focus on? The answer here is to focus on the very essentials that make an outdoor kitchen. Forget about the food warmers and wine fridges that you saw in that one catalogue. Instead, focus on the one or two things you really need. These are the grill and possibly an outdoor fridge unit, and counter space. 
Get the very best grill and fridge unit you can, these two will be your workhorses so they'll need to be able to take some punishment. It's better to have one or two very good appliances that are less likely to break down than having a lot of lower end equipment that can break sooner or more often.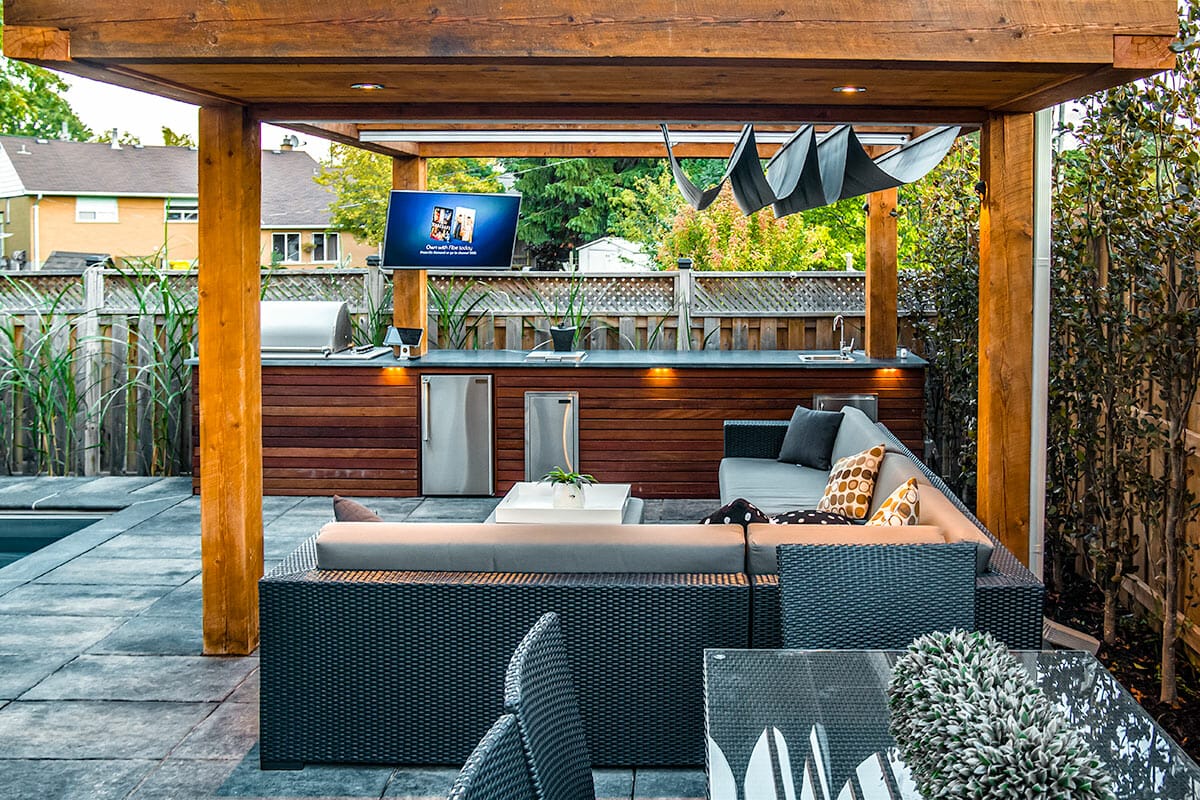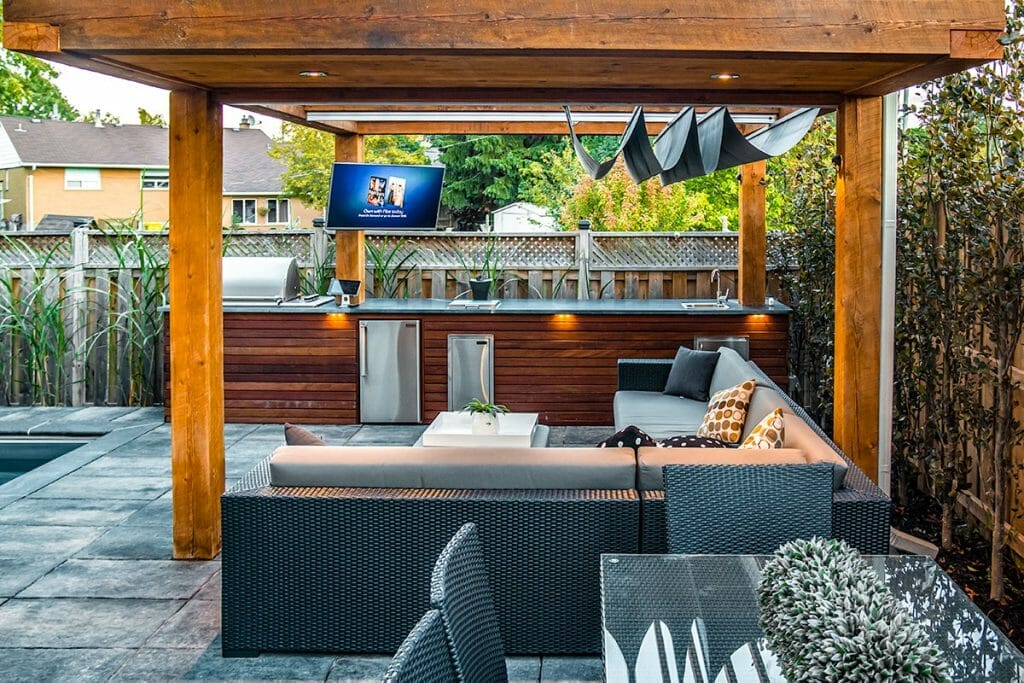 When designing counter space as well, you should decide how much of it you'll absolutely need then choose the best counter top material for it. Natural stone is typically a good choice for this, which can be expensive. But it's better to have a smaller but sturdier and more weather resistant counter top than a larger one that can seat people breakfast bar style but is made of inferior material.
Besides, you can always get back the seating space with patio furniture, which can generally be cheaper.  
Work with your Contractor on Sourcing Materials
One good way to save some money on your outdoor kitchen design is with materials. But like was said before, buying the bottom shelf stuff doesn't really work. Low quality materials and furniture will break down easily, and repairs will end up racking a pretty penny as time goes on.
Instead, work with your landscaping design contractor to find high quality building materials and pieces that have reasonable prices. For furniture, find ones that can withstand the elements. Warranty is also a big factor when it comes to furniture as well. Look for those with a 10+ year warranty. This is because if any of your furniture breaks, the warranty can cover repairs, saving you money in the long run.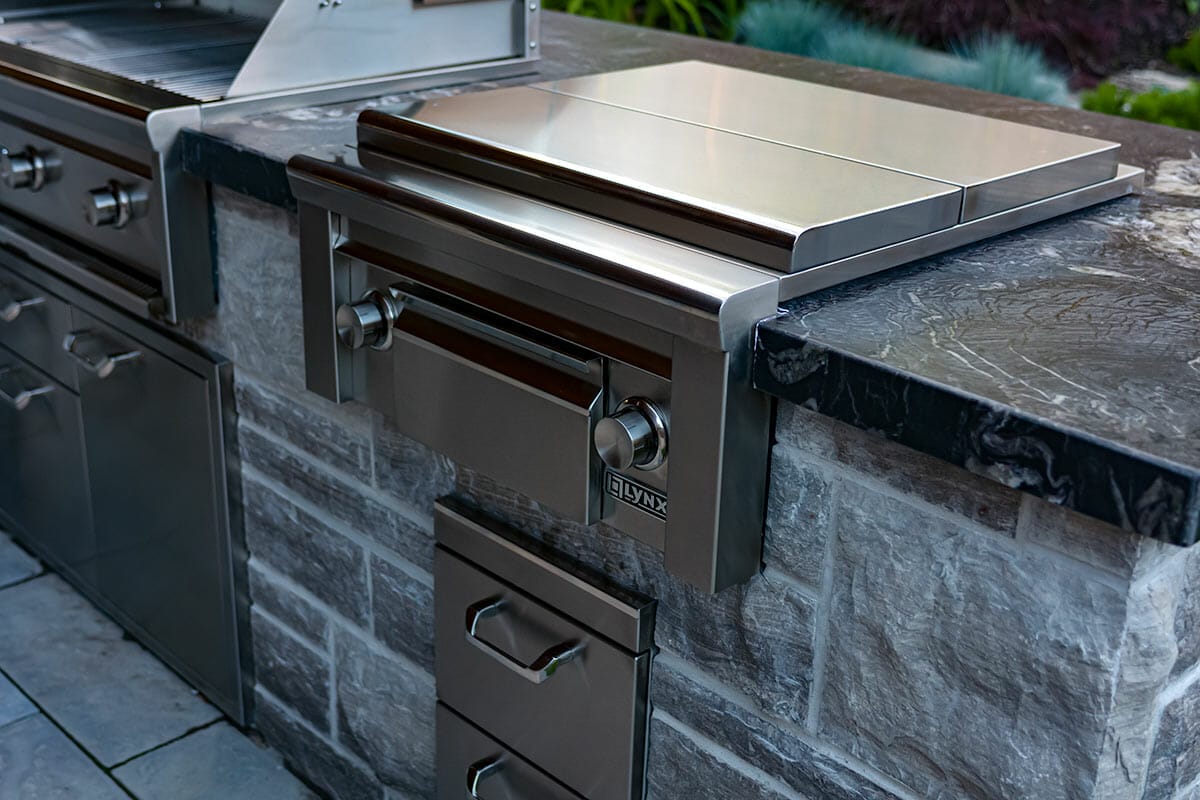 As for materials, there are places you can find quality for a lower price as well. Consignment stores can be a surprising source of high-quality materials as old homes are sold or remodeled and their antique components taken out. It's fine as well if the material you find isn't quite the shape or size you're looking for since the pieces can be cut to accommodate the shapes you need for your outdoor kitchen counter.
Choose Propane
Creating a fully featured outdoor kitchen will come with it a lot of extra building permits. Your landscaping contractor will need to route electrical, gas, and water lines from your home to the outdoor kitchen area. They also need to have these utility lines and the structure they are going through must also be built up to code to accommodate them. 
This can easily rack up extra costs for you due to permits and redesigns for your outdoor kitchen. If you're willing to compromise, it's a good idea to forgo the utility lines and use propane tanks for your grill instead. This can save you on the building costs by a lot.
Propane is also a good idea if you don't entertain guests regularly. It means you won't really use a lot of gas for your grill. You won't end up needing extensive gas lines and the occasional tank change every year may end up being cheaper in the long run. 
Remember Ventilation
One thing that you shouldn't skimp out in your outdoor kitchen design however, is ventilation. Proper ventilation is very important for the health of both you and your guests. Smoke inhalation is never a good thing.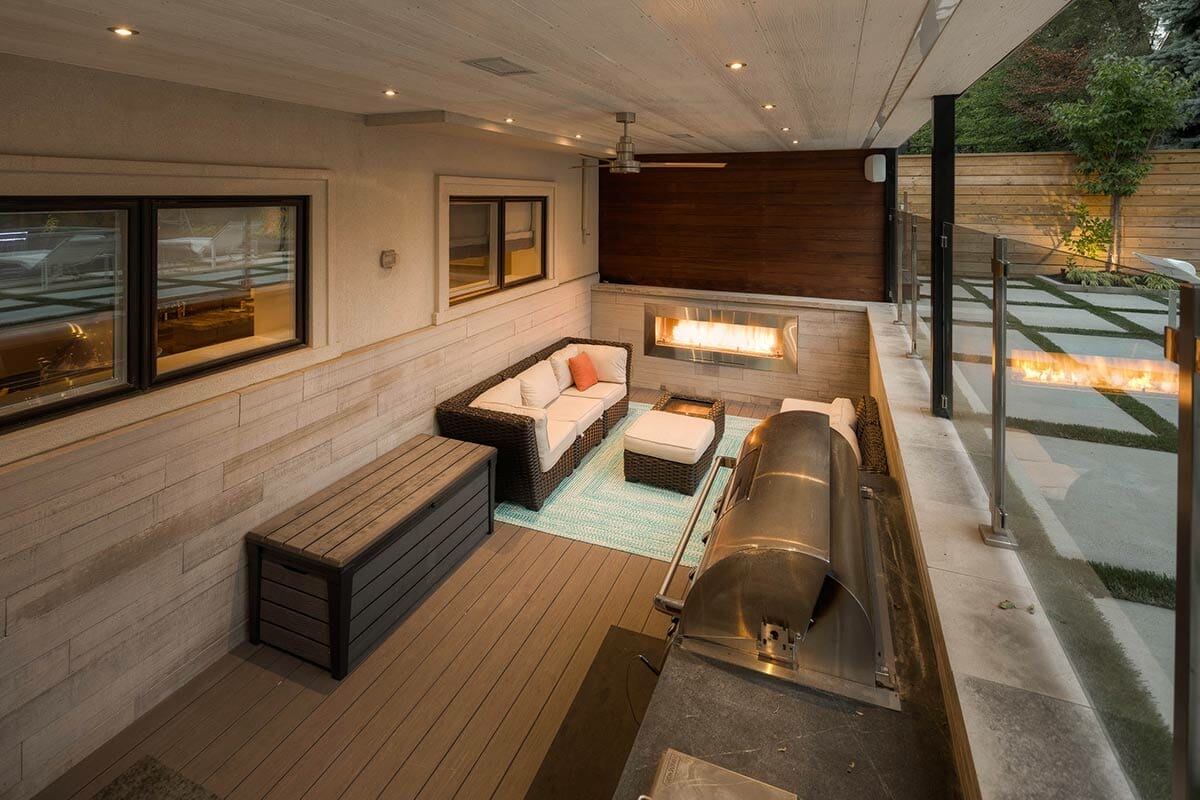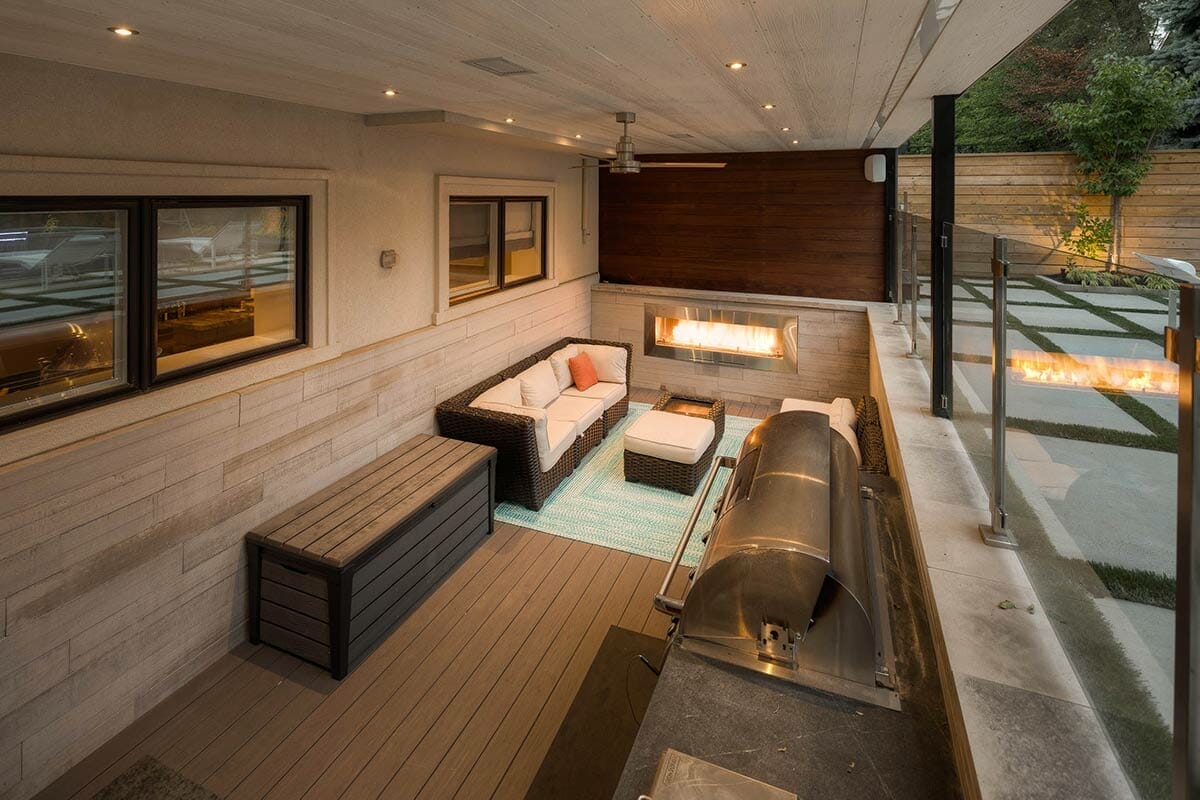 Make sure you spend some good money towards purchasing and installing a good vent hood with a powerful fan. Trickier, but potentially cheaper is to design the outdoor kitchen layout to take advantage of your location. Figuring out where the directions where the wind blows to work with nature in order to keep smoke away from you and your guests.
Work Closely with your Landscaping Contractor
But the most important thing a homeowner who wants to have an outdoor kitchen on a budget can do is definitely to listen to and work closely with their landscaping contractor. The contractor you hired brings with them their extensive knowledge of designing and building outdoor kitchens. They'll be familiar with any permits and building codes that your design must follow. They might also have connections to distributors of materials and appliances. 
Being open with them about your needs and your allowed budget will be useful so that they can balance their design and material choice to your specific budget and design concerns. This will help ensure that your outdoor kitchen will be as great as it can be.
M.E. Contracting is Toronto's award-winning deck builder and leader in quality outdoor solutions.
If you're looking for tried and true experts in outdoor kitchens and landscaping projects in general, M. E. Contracting has you covered. Our team has almost two decades of experience bringing landscaping projects to life. Contact us for a consultation or a free estimate for your project at (416) 238-6700.
'M.E. Contracting is one of Toronto's premier outdoor solutions company. Founded by owners Keren and Eitan Abu, with a desire to change the face of Toronto through the revitalization of outdoor living space, M.E. Contracting was established. The "M" and "E" stand for Keren and Eitan's daughters, Mika and Emma; from the start these two girls have inspired the vision of innovation and creativity that M.E. embodies today. Want to see for yourself? Our 7,000 square foot landscaping showroom is the only showroom in Ontario dedicated to landscaping and outdoor transformations'