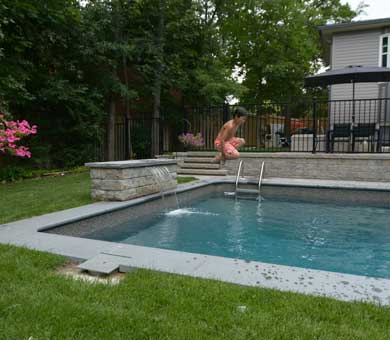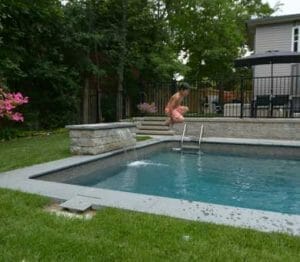 So you have decided to take the plunge, so to speak, and build a pool in or around your home. This is obviously a very exciting decision, as having a backyard pool has been the dream of many for a very long time. Unfortunately, the easy part is over for a while as you are now faced with the pool-building process. There are a lot of choices heading your way: what type of pool do you want or need? Where do you want it? How will you chose from all the pool builders in Toronto? Don't worry, though, below are some tips and tricks to help you find the best pool builder for you and your pool.
Before Choosing Your Pool Builder
Before you can even start thinking about picking a pool builder out of the many pool builders in Toronto, you need to do some thinking and deciding about what type of pool you want or need. Is it gonna be a Fiberglass pool or a customized concrete pool. People build pools for many reasons: social, health, aesthetic, or for pure fun. From the more practical pools to the tropical paradises and everything in between, there are tons of choices.
Therefore, you need to think about how you and your family will be using the swimming pool. Will you play water sports? Swim laps? Sun bathe, with some intermittent dips? Splash around? Thinking about the future use of your pool will key you into design ideas that will make your pool as practical, affordable, and long lasting as possible. As there are many pool builders in Toronto, you will need to find the team that can give you what you want in a timely and affordable manner. In order to properly research this, you need to first know what you want and need. So, always be sure to come up with a basic design plan or idea before beginning your search for the best pool builder for you.
Finding and Picking from the Toronto Pool Builders
There are tons of pool builders throughout Toronto. Though they all sell basically the same product, in-ground pool construction, there are still many differences between them all. Attributes like price, techniques, levels of certification, years of experience, and client reviews set pool builders apart from one another. So, there is a fair amount of research involved to find the right one for you and your needs. However, don't let yourself become overwhelmed. Use this list of tips to help make your search through the pool builders of Toronto as painless and successful as possible:
Start at the Beginning – Use the Internet or phonebook to find pool builders in your area and review their websites. Look through their portfolios or completed jobs pages and find styles and looks that fit with what you want. Find companies that have been in business for a minimum of 12 months, and that have positive consumer reports. Take note of those pool builders, and then contact them for a consultation appointment.
Check for Certifications – At the initial consultation meeting, make sure that the pool builder has all of the necessary certifications. You can also ask if there is someone on staff who has been trained, tested, and certified in pool service to ensure you will be receiving standardized and professional work.
Get References – You are literally hiring this pool builder to work for you, so ask for a list of customer and professional references just like you would in a normal job interview. Be sure to actually contact these references to ask about their experience and satisfaction level with this pool builder before, during, and after the process.
Get it in Writing – Just like politicians, salespeople often make promises they do not intend to keep. If the sales department for the pool builder makes any claims or promises having to do with the purchase, warranty, or actual construction of your pool, make sure to get it in writing.
Visit in Person – Pool builders often do in-home consultations, which can be very convenient, but you should always visit the office or showroom before you make a commitment. Talk to the employees, take a look around, and ask yourself if you feel comfortable around these people and in their environment. If you don't, ask yourself if these are the people you should be trusting to build your pool.
Do Your Reading – Pool builders and other types of contractors will often bombard you with piles of paperwork, contracts, and information packets. While it may be overwhelming, you must actually read all of it. You do not want to sign anything or make any promises until you are completely sure you understand all that is involved.

Beware of Big Payments – Pool builders that require large down payments or substantial percentages of the contract before any work is completed can be up to no good. Research standard initial payments and trust your gut.

Take Your Time – Unless you have some sort of time crunch, do not be afraid to shop around. Get bids from multiple pool builders, and do not rush into any decision.
Building your own pool is a very exciting process, but a potentially lengthy and stressful one as well. Picking your pool builder is one of the most important steps as this person or team will be in charge of creating your ideal pool, making it safe, and keeping it functional. Though there are many pool building and contracting companies in Toronto, there is probably only one that is right for you. Putting in the research and time necessary to choose the best Toronto pool builder for you is a crucial step in making sure your pool turns out exactly the way you want it. Use this list of tips to make the process of finding a pool builder less stressful and more productive, and you will be enjoying your new pool in no time at all!